HCM City eyes 10 percent growth in export in 2021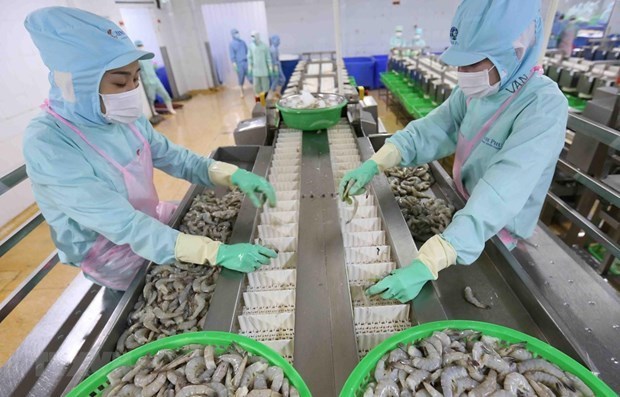 Shrimps processed for export
Ho Chi Minh City's Department of Industry and Trade has set the target to export 48.19 billion USD worth of products in 2021, a year-on-year surge of 10 percent.
Under its development plan for 2021 recently submitted to the municipal People's Committee, the sector said import revenue is estimated at 56.47 billion USD for the whole year, up 11 percent against the previous year.
Besides, it eyed to reel in more than 835.68 trillion VND (36.29 billion USD) from retail sales and services revenues in the year, up 10 percent year-on-year.
The department said it will carry out necessary measures in a comprehensive fashion to branch out industry and trade, contributing to promoting economic recovery of the southern hub.
Earlier, HCM City set a goal of boosting the export of its key products this year and beyond via trade promotion activities and assistance to enterprises.
Head of the statistics office Huynh Van Hung said COVID-19 has been largely brought under control around Vietnam, resulting in the production sector exhibiting signs of recovery. Local enterprises, however, continue to face difficulties as many major trading nations are yet to open their markets.
He noted that enterprises are in need of diverse and long-term support relating to information on importers of materials and fuel, new markets and partners, and domestic consumption stimulus measures.
According to Nguyen Phuong Dong, Director of the municipal Department of Industry and Trade, despite facing myriad challenges, last year the city still saw five goods post export turnover in excess of 1 billion USD: computers-electronic products and components, with 17.8 billion USD; garment-textile 4.3 billion USD; footwear 2.2 billion USD; machinery-equipment-spare parts 2.2 billion USD; and other goods 6.9 billion USD. Together their export value accounted for 83.5 percent of the city's total.
Key export markets remained China, the US, and Japan. China imported 10.5 billion USD worth of goods from HCM City last year, up 23.7 percent year-on-year. Exports to the US and Japan, meanwhile, stood at 6.7 billion USD and 2.8 billion USD, down 0.2 and 16 percent, respectively, year-on-year./.
Ex-Standing Deputy Minister of Industry and Trade appointed as chairman of Vietbank
The Board of Directors of VietBank has just decided to appoint Bui Xuan Khu as vice chairman to replace Duong Ngoc Hoa from February 23.
The new chairman of the Board of Directors of VietBank was previously the Standing Deputy Minister of Industry and Trade. He was also in charge of operating a number of large-scale corporations.
The newly-appointed chairman is rich in experience in managerial positions and held senior management positions such as general director of Viet Tien Garment Corporation, general director of Vietnam Textile and Garment Corporation.
Currently, Khu is also the vice-chairman of Global Petroleum Investment JSC.
In 2020, VietBank's consolidated pre-tax profit reached VND403 billion ($17.5 million), down 34.3 per cent compared to 2019. After-tax profit was VND319 billion ($13.87 million), down 32.3 per cent.
As of December 31, 2020, VietBank's total assets increased by 33 per cent at the end of 2019 to VND91.66 trillion ($4 billion). The non-performing loans ratio to total outstanding loans was 1.75 per cent.
Exports of cassava, by-products surge since new year
Exports of cassava and its by-products are reported to have increased significantly since the beginning of this year, according to the Ministry of Agriculture and Rural Development.
As of the end of January, exports hit 472,805 tonnes, raking in 174.62 million USD, up 122.9 percent in volume and 139.7 percent in value against January last year.
Export prices averaged 369.3 USD per tonne, a year-on-year rise of 7.6 percent.
China held the lion's share during the period, with 96 percent of volume and value.
Vietnam shipped 453,456 tonnes to its northern neighbour and earned 166.56 million USD, increases of 127.7 percent and 146.5 percent, respectively.
Other markets bringing in more than 1 million USD in export value in January included the Republic of Korea, with 9,279 tonnes, and Taiwan (China) with 5,491 tonnes.
Exports last year reached 2.76 million tonnes, earning 989 million USD, an increase of 9 percent in volume and 2.4 percent in value compared to 2019. The average export price, however, fell 6 percent to 358.3 USD per tonne year-on-year./.
Digital economy – momentum for Asia to thrive in post-pandemic era
With the pandemic showing little signs of slowing and as countries around the world shift away from the traditional economy, Asia has an opportunity to consider building a more integrated digital economy and to promote digital trade and a common digital currency.
According to the International Monetary Fund's outlook report on the Asia-Pacific region released in October 2018, the level of digitalisation in various Asian economies is higher than that of countries in other regions, said an article recently published on ThinkChina e-magazine.
Even the relatively poorer Asian economies are going digital at an ever-increasing pace. Over the past 20 years, digital innovation has contributed about a third of Asia's per capita economic growth. Asia will lead global digitalisation, and will benefit greatly from the growth of its digital economies. For instance, e-commerce seems to be boosting companies' productivity, and going digital may help improve targeted expenditure and streamline taxation processes.
The United Nations Conference on Trade and Development (UNCTAD) noted that global trade in 2020 is expected to shrink by about 7-9 percent as compared to 2019, and closer cooperative ties in digital trade within Asia would help Asian countries to withstand the impact of shrinking global trade, or to buffer the blow.
According to the 2020 China Internet Development Report, China's digital economy in 2019 was worth 35.8 trillion RMB, or 36.2 percent of its GDP, putting it among the top in the world in terms of scale and growth rate. The fifth plenary session of the 19th Central Committee of the Chinese Communist Party (CCP) in December 2020 unambiguously proposed stepping up the development of digitalisation, promoting the formation and growth of the digital industrial sector, and strengthening international cooperation in areas such as internet infrastructure, big data, cloud computing and e-commerce, to build a digital Silk Road.
The recent signing of the Regional Comprehensive Economic Partnership (RCEP) and the successful conclusion of negotiations on the China-EU investment agreement are expected to provide positive impetus for global economic recovery. These two agreements include significant content on cooperation in the digital economy, such as in the areas of trade digitalisation, cross-border e-commerce, and fintech among the signatory countries. This will certainly help China, Asia, and ASEAN unleash their enormous growth potential in the digital economy in the post-pandemic era.
ASEAN is a region of many young people, with over half of its population aged below 30. Smartphones are prevalent among the young and the internet economy is growing at an astonishing rate which is set to hit 300 billion USD by 2025.
In Asia, building the digital economy has been a key part of the strategic development of Singapore and China in recent years, and results have been remarkable.
With the rise of new information technologies and the digital economy, Singapore has in recent years taken an active lead in establishing digital economic partnerships with countries such as China, New Zealand, Australia and Chile, as well as ASEAN. New bilateral Digital Economy Partnership Agreements are signed to boost digital connectivity, and this includes cooperation in digital trade, interoperability between digital systems, enhanced cross-border data flow, data innovation, and fintech.
For example, the vision behind setting up the ASEAN Smart Cities Network and building an open data network for ASEAN is to promote digital integration in regional economy and trade.
The article said with the pandemic hampering the growth of the traditional economy, and under the shadow of unilateralism, there is great potential for the growth of the contactless digital economy. Coupled with the favourable trends and conditions for the development of the digital economy outlined above, it is timely and will be significant in seizing the opportunity to build a more integrated Asian digital economy./.
Vietnam's economy to grow by 7pct in 2021: ASEAN+3 Macroeconomic Research Office
Vietnam's GDP growth is expected to rebound to 7 percent in 2021, driven by a recovery in external demand, a resilient domestic economy, and increased production capacity, according to the preliminary assessment by the ASEAN+3 Macroeconomic Research Office (AMRO).
The office said that after a sharp drop in the second quarter, Vietnam's economic growth started to rebound in the third quarter of 2020, with a broad-based recovery.
Manufacturing activity was boosted by a robust export sector, which benefited from Vietnam's relatively resilient export mix, as well as trade diversion from the US-China trade tension. Meanwhile, domestic consumption recovered following the relaxation of mobility restrictions, a result of the authorities' effective COVID-19 containment efforts. Furthermore, the rebound benefited from an acceleration in the disbursement of public investment.
AMRO stressed that a protracted and uneven recovery of the global economy may jeopardise the recovery in external demand. While domestic demand has picked up after a relatively successful containment of the pandemic, it remains susceptible to the risk of further waves of COVID-19 infection. Moreover, scarring effects of the pandemic, such as the impairment of the balance sheets of the business sector, and the hit on labour market may undermine the prospect of recovery.
The office also highlighted the necessity for greater fiscal support through both revenue and expenditure measures in order to support the nascent economic recovery if the growth momentum are to weaken, while targeted support to micro, small and medium enterprises and low-income households needs to continue and be regularly reviewed for its relevance and effectiveness.
Enhancement of support programmes through simpler and better-targeted disbursement will facilitate the effective use of government funds, it added.
Given the benign inflation outlook, the office said that it is essential that monetary policy remains supportive of economic recovery, keeping financing costs affordable for households and businesses.
With more accommodative financial conditions, heightened supervision of lending to risky sectors remains warranted to mitigate the risk of an asset bubble. In addition, enhanced supervision in this sector is important in order to safeguard the quality of bank credit in the period ahead.
It is essential to ensure continued support for long-term development issues, such as infrastructure development, human capital development, social safety net, and particularly public health, while carefully managing risks to long-term fiscal sustainability, the AMRO said./.
Trade ministry helping Hai Duong farmers sell produce
The Ministry of Industry and Trade (MoIT) is working to connect enterprises and localities facing COVID-19 outbreaks to ensure goods are consumed, especially agricultural produce in virus-hit areas.
After Hai Duong applied social distancing across the province from February 16, the ministry worked with major distribution systems in the north such as Central Group (Big C and Go! supermarket chains), Vincommerce (Vinmart and Vinmart chains), BRG Retail (BRG Mart supermarket chain), and MM Mega Market chain to purchase agricultural products from farmers, co-operatives and enterprises of Hai Duong, the ministry said on February 22.
So far, Central Group has purchased 100 tonnes of vegetables and fruits per week from the province for consumption in its retail system. The volume is expected to increase to 200 tonnes per week soon.
This week, its GO! and Big C outlets in the North will consume about 70 tonnes of Hai Duong's agricultural products and will increase the sales until the end of the season, the group said.
MM Mega Market Vietnam has ordered 24.3 tonnes of vegetables per day from Hai Duong, including kohlrabi, cabbage and guava for its distribution systems in the central and southern regions. Vinmart has also ordered some agricultural produce.
The ministry has also worked with the Ministry of Agriculture and Rural Development, localities and enterprises to discuss solutions to remove difficulties in transportation and consumption of goods, especially agricultural products with a large output and in the harvest season, especially in Hai Duong and neighbouring provinces, it said.
According to the Hai Duong Department of Industry and Trade, most COVID-19 control stations in neighbouring provinces and cities have restricted entry from vehicles going from or through Hai Duong, leaving agricultural produce stuck and impacting farmers' livelihoods.
Localities and enterprises have complained that the implementation of the requirement for COVID-19 testing in transporting goods has many inconsistencies, leading to difficulties in consuming agricultural produce.
Difficulties transporting commodities has also affected production in the province and also other localities like Hanoi, Hai Phong and Quang Ninh because many commodities in Hai Duong are materials for processing chains at factories in the localities, according to the ministry. That will also affect the socio-economic development of many localities.
Tran Thi Phuong Lan, acting director of the Hanoi Department of Industry and Trade, said distribution systems in Hanoi are making efforts to support Hai Duong to consume agricultural produce, averaging about 100 tonnes per week.
Meanwhile, Hai Duong is implementing many measures to facilitate the transportation of agricultural produce in the harvest season.
Over the past three days, the province has prioritised the implementation of COVID-19 testing for truck drivers and returned the results within 24 hours to accelerate goods transportation, according to Hai Duong Provincial Party Secretary Pham Xuan Thang.
On February 21, Hai Duong Provincial People's Committee Chairman Nguyen Duong Thai sent a letter to Hai Phong City People's Committee to ask for permission to transport commodities from Hai Duong to Hai Phong.
To facilitate the fastest transportation of goods, especially agricultural produce and frozen goods, the Hai Phong City People's Committee was asked to allow trucks with drivers with proof of a negative SAR-COV-2 test result issued by the Hai Duong Centre for Disease Control to go to the quarantine areas between Hai Duong and Hai Phong. After that, the driver in Hai Phong will drive that truck into this city, reported the Nguoi lao dong (The Labourer) newspaper.
According to the Hai Duong Agriculture and Rural Development Department, about 4,080ha of crops with a productivity of about 90,760 tonnes are going to be harvested including more than 55,000 tonnes of onions, 50,000 tonnes of carrots and 8,000 tonnes of cabbage, kohlrabi, cauliflower and leafy vegetables.
Tran Van Quan, director of the Hai Duong Department of Agriculture and Rural Development, said that farmers in Duc Chinh commune, Cam Giang district had harvested more than 48,000 tonnes of carrots.
However, social distancing in Hai Duong had made it tough to transport the carrots from Duc Chinh to ports in Hai Phong.
Besides that, the pandemic had caused many localities to stop transporting agricultural products, including carrots, to Duc Chinh, for processing and packaging..,
Building disease-free zone – key to animal husbandry: Minister
Building disease-free zones is the most important key to the sustainable development of the husbandry sector, Minister of Agriculture and Rural Development Nguyen Xuan Cuong said on February 23.
The top priority at present is given to researching and producing vaccines against African swine fever (ASF), Cuong said at a meeting in Hanoi on plans to implement the husbandry development strategy for 2021-2030.
Deputy Minister of Agriculture and Rural Development Phung Duc Tien stated that Vietnam expects to produce ASF vaccines for commercial purposes at the end of the second quarter or the beginning of the third quarter to serve domestic husbandry development with affordable prices.
According to head of the Department of Animal Health Pham Van Dong, in the first two months of 2021, about 2,000 pigs with ASF were killed.
The country currently has 73 outbreaks in 21 provinces and cities, Dong added.
Acting head of the Department of Livestock Production Nguyen Xuan Duong cited January's statistics which showed the total number of the country's poultry flocks increased by 6.5 percent year-on-year, and the total number of cows up 2.2 percent, and pigs up 16.2 percent./.
PM approves infrastructure building at Viet Han IP
The Prime Minister has issued Decision No.225/QD-TTg approving a project on infrastructure building and business at Viet Han IP in the northern province of Bac Giang.
Invested by Fuji Phuc Long Development Co.Ltd, the 50-year project will be carried out in Hong Thai, Tang Tien communes and Nenh township in Viet Yen district, covering 50ha in the first stage.
The PM asked the provincial People's Committee to be responsible for choosing investors to carry out projects in line with legal regulations regarding investment, bidding, land and real estate trade and relevant laws, with a priority given to projects using modern and eco-friendly technologies.
It must also implement compensation and site clearance, and transfer land use purpose to embark on projects as approved in terms of scale, location and progress.
The committee was also assigned to direct the provincial management board of IPs to ask investors to make deposit to ensure project implementation in line with the investment law.
The board and agencies concerned must also oversee the implementation of projects in line with laws on investment, land, environment, construction and real estate trade while attracting investment in IPs in accordance with approved planning./.
PM agrees to adjust master plan on IPs development in Bac Giang
The Prime Minister on February 23 issued dispatch No.216/TTg-CN on a project adjusting and supplementing the master plan on the development of industrial parks (IPs) in the northern province of Bac Giang.
Accordingly, the PM agreed to ask the Ministry of Planning and Investment to add new IPs in the locality, including Yen Lu IP covering 377ha in Yen Lu and Nham Son communes, Yen Dung district; Yen Son – Bac Lung IP sprawling 300ha in Yen Son and Bac Lung communes, Luc Nam district; and Tan Hung IP on a site of 105.3ha in Tan Hung and Xuong Lam IP in Lang Giang district.
The Government leader also consented to expand Quang Chau IP by 90ha in Nenh township and Quang Chau, Van Trung communes, Viet Yen district; Hoa Phu IP by 85ha in Mai Dinh and Huong Lam communes, Hiep Hoa district; and Viet Han IP by 148ha in Hong Thai, Tang Tien communes and Nenh township in Viet Yen district.
The provincial People's Committee was assigned to manage, use and change the purpose of land use, as well as choose investors in line with the law, ensuring openness and transparency.
Projects in IPs must be in line with approved land use planning and legal regulations related to bidding, land, housing, investment and relevant laws.
It must also direct the provincial management board of IPs and authorities to oversee the abidance of legal regulations regarding the construction on water drainage and wastewater treatment systems, including the Law on Environment Protection, the Law on Irrigation, the Law on Dykes and the Law on Water Resources./.
Da Nang grants licences to six investment projects
The central city of Da Nang on February 23 granted investment licences to six investment projects in local Hi-Tech Park and industrial parks, including three foreign-invested projects.
The three FDI projects are funded by Japanese and US investors. They are a 110-million-USD semiconductor factory, a 35-million-USD Fujikin Da Nang research-development-production centre, and a 300,000-USD packaging factory. The three domestically-invested projects have a total capital of 73.4 billion VND.
Besides, the city also gave in-principle approval to a 135-million USD project on 3D printing services of Arevo Inc. from the US  at the Da Nang Hi-Tech Park.
According to Pham Truong Son, head of the Da Nang Hi-Tech Park and Industrial Zones Authority, of the projects, three are located in the Da Nang Hi-Tech Park with total investment of over 280 million USD, using high technology and creating high added value. These projects are expected to make Da Nang more attractive for high tech investors, he said.
So far, the Da Nang Hi-Tech Park has attracted 24 projects, including 12 domestically-invested projects worth 6.29 trillion VND (273 million USD) and 12 FDI projects worth 545.1 million USD. Meanwhile, Da Nang has lured 496 projects worth nearly 2.9 billion USD in the High-Tech Park and industrial parks./.
Vietnamese airlines no longer use Boeing 777: CAAV
Vietnamese airlines have no longer used Boeing 777 aircraft since four planes of this type were sold in 2017-2018, according to the Civil Aviation Authority of Vietnam (CAAV).
The authority gave the information after the US plane manufacturer Boeing recommended grounding all 128 Boeing 777 around the world following an engine fire on a B777 United Airlines flight.
A leader of the CAAV said that currently, no country in the world has banned the B777 and neither has Vietnam, but due to the Boeing's recommendation, no flight using the aircraft type has flown across the Vietnamese airspace. Meanwhile, no Vietnamese airline has signed any contract to hire or buy B777, added the official.
On February 22, Boeing affirmed that all 128 B77 airplanes powered by Pratt & Whitney 4000-112 engines have been removed from service.
United Flight 328, bound for Honolulu in Hawaii with 231 people aboard, reported trouble on February 21 shortly after taking off from Denver. The plane landed safely and no passengers were injured./.
Exports to Australia rising sharply
Despite the COVID-19 pandemic's impact on global trade, Vietnam's exports to Australia grew 62.08 percent year-on-year in January to almost 391 million USD, data shows.
Bilateral trade increased 39.92 percent against January 2020 to approximately 873 million USD, according to the General Department of Vietnam Customs.
Aside from stable export growth of items such as timber, wooden products, toys, plastic products, electrical wiring and cables, textiles-garment, and footwear, Vietnam's agricultural and aquatic products are also gradually winning over consumers in Australia, one of the world's most demanding markets.
January's aquatic exports to the market shot up 106.09 percent year-on-year while shipments of farm produce rose 37.16 percent.
The Vietnamese trade office in Australia said that thanks to increasing cooperation between the two governments, bilateral investment and trade links have also improved considerably.
It noted that, in 2020, there was a surge in the number of Australian businesses seeking Vietnamese partners via the trade office. Most highly value the quality of Vietnamese products and wish to expand their market and diversify supply sources.
Under guidance from the Ministry of Industry and Trade, the trade office will step up its action plan to further support bilateral trade in the time ahead, it added./.
Vietnam needs post-pandemic programme to boost economic recovery: Expert
To achieve important targets in 2021-2025, Vietnam should consider economic digitalisation key to shifting its growth model and shortly carry out a "post-COVID-19" mid-term programme in association with economic restructuring on the basis of taking advantage of opportunities brought about by free trade agreements (FTAs).
The advice came from Dr Tran Du Lich, a member of the Prime Minister's Economic Advisory Group, in an interview granted to the Cong Thuong (Industry and Trade) Newspaper.
He said Vietnam's growth of 2.91 percent last year was a miracle amid the serious impact of the COVID-19 pandemic and natural disasters.
However, entering 2021 – the first year of implementing the new Socio-Economic Development Strategy – Vietnam has to face several major mid-term challenges. Firstly, he said, the economic achievements gained in 2016-2019 are now being eroded, as reflected through the significant decline in 2020 GDP growth, while public debt and bad debts are increasing once more and the unpredictable developments of the pandemic have slowed down the economic restructuring process.
Secondly, the readiness of Vietnamese enterprises to bring into full play the opportunities presented by bilateral and multilateral FTAs, particularly the Comprehensive and Progressive Agreement for Trans-Pacific Partnership (CPTPP), the EU-Vietnam FTA, and the Regional Comprehensive Economic Partnership, remains weak. Most enterprises, even those with foreign investment, are using outdated production technologies.
Thirdly, efforts to reform economic institutions have brought about certain results but not in a systematic manner, Lich said.
The next five years will be an unpredictable period in politics, economics, and international trade, he believed.
Top priority should be given to economic digitalization during the shifting of the growth model in a sustainable manner during the 2021-2025 period.
It is necessary to turn the Government's determination and innovation during a period of "fighting the disease like fighting the enemy" into determination and innovation in the "post-pandemic" period with specific policies.
Despite the challenges, Vietnam's economy will have many opportunities to reach socio-economic targets in the 2021-2025 period, he added./.
Hau Giang plans 99.5 million USD spending on industrial, logistics development in 2021
Setting up an industrial park and a logistics centre this year is part of a development plan for 2021-25 that Hau Giang province in the Cuu Long (Mekong) Delta has just unveiled.
The plan seeks to maximise the province's potential and available resources and develop manufacturing, logistics, trading, and, especially, agricultural and aquatic processing.
The plan is focused on building comprehensive infrastructure for industrial parks and clusters, and soliciting investment in environmental treatment projects, projects that use advanced and environment-friendly technologies, processing vegetables and fruits, manufacturing, and energy.
It envisages establishing an industrial park and making zoning plans for industrial parks for completing procedures for setting them up, including for the establishment of two new industrial clusters and expanding one, all this year.
It also aims to efficiently implement national and local trade promotion programmes simultaneously.
A number of renewable energy projects and projects in industrial parks and clusters are expected to start construction this year.
With respect to logistics, the province plans to complete waterway and road transport infrastructure with high connectivity to meet cargo transportation needs and focus on developing supply chains for certain products, making them a driving force for socio-economic development.
It will build a logistics centre and spend the entire amount earmarked for waterway and road transport development projects this year.
The plan is expected to cost 2.29 trillion VND (99.5 million USD) this year, with the central and local governments providing 353.1 billion VND and 58.4 billion VND, and enterprises the rest./.
Better technologies help firms become entrenched in global value chains
Vietnamese enterprises should dig into new technologies to improve product quality and brands so as to better engage in the global value chains, Minister of Industry and Trade Tran Tuan Anh has said.
Anh, who is also Chairman of the Party Central Committee's Economic Commission, suggested that technological development within businesses could be made through close cooperation with foreign-invested enterprises and encouraging technology transfer.
Along with the State's support policies and mechanisms, enterprises should also invest substantially in technologies while sharpening their focus on human resources development to master state-of-the-art technologies.
It is necessary for enterprises to participate in the policy consultation process to ensure their rights while introducing policies that are beneficial to them, he stressed.
To join the global value chains, enterprises can become suppliers of multinational corporations in Vietnam or export supporting products such as automobile parts, electronic products, and materials for the garment-textile and leather footwear sectors, he said, highlighting that despite supply chain disruptions caused by COVID-19, production and business activities in the country have carried on as normal.
Customs figures show that as of December 15, Vietnam had exported 5.3 billion USD worth of automobile parts last year, the same amount as in the previous year, and 42 billion USD worth of computers and parts, or ten-fold higher than in 2019.
Though the garment-textile and leather footwear sectors were battered by the pandemic, they nonetheless brought in 6.9 billion USD, just 1 billion less than in the same period of 2019.
COVID-19 also transformed global production, making major foreign corporations keen to shift their production to Vietnam, he said, adding that local supporting enterprises have seen better integration into the supply chains of multinational corporations.
In just two years, Japan's Toyota Motor Corporation developed 10 tier-1 suppliers, while the Republic of Korea's Samsung admitted 50 enterprises to its list of tier-1 suppliers and increased its number of tier-2 suppliers from 157 in 2018 to 192 in 2020.
Anh described Vietnam's participation in various free trade agreements as a distinct advantage for the country to attract foreign capital flows.
The country's success in its dual tasks of preventing the pandemic and promoting socio-economic development helps improve its prestige as a safe investment destination that is resilient to global shocks.
Economists have pointed to several challenges for the country, however, including weak management capacity, poor infrastructure, a shortage of skilled workers, and cumbersome procedures, among others, he added./.
Bamboo Airways raises charter capital to 457.3 million USD
Bamboo Airways has announced the addition of 3.5 trillion VND to its charter capital, bringing the total amount to 10.5 trillion VND (457.3 million USD).
The adjustment marks the fifth and also the largest addition by the Vietnamese budget carrier to date.
Its shareholder structure remains unchanged, with the FLC Group holding 51.29 percent as of the end of last year.
It reported pre-tax profit of over 300 billion VND in 2020, transporting a total of over 4 million passengers, up 41 percent in the number of flights and 40 percent in the number of passengers against 2019.
Bamboo Airways was established in mid-2017 with registered capital of 700 billion VND, which has been rising since late 2019.
It is yet to reveal the timing of its initial public offering (IPO).
The carrier is currently operating nearly 30 aircraft, including modern Boeing 787-9 Dreamliners, A321neo ACFs, and Embraer E195s. Its fleet is expected to reach 50 this year.
La Gan wind power project to benefit over 7 million households
The La Gan wind power project, with an estimated capacity of nearly 3.5 GW, is being developed by Copenhagen Infrastructure Partners (CIP), Asiapetro and Novasia off the coast of the south central province of Binh Thuan.
It is expected to generate electricity for over 7 million households each year.
According to the BVG Associates, the project will create over 45,000 full-time equivalent (FTE) jobs and contribute over 4.4 billion USD to the economy during the course of the project.
The total rate of locally-made components will account for about 45 percent of the supply chain of the project.
As the project will be carried out for many years, more opportunities will be given to Vietnamese contractors to join the supply chain.
Since the signing of a memorandum of understanding with the provincial People's Committee in July 2020, the project has achieved significant progress, including preparing for a field survey and approving survey license.
With a total investment of 10 billion USD, it is also one of the first large-scale offshore wind power projects in Vietnam./.
HCM City to focus on developing industrial, trade sectors
The Ho Chi Minh City People's Committee set targets and approved operational orientations and solutions for this year for its industrial and trade sectors at a recent meeting.
They include 5 percent growth in industrial production, with its four key industries (food processing, pharmaceutical chemicals-rubber-plastic, mechanical engineering, and electronics) growing by at least 6.7 percent.
The targets for growth in retail sales of goods and services and exports are 10 percent, Bui Ta Hoang Vu, director of the city Department of Industry and Trade, said.
Non-financial targets include improvements in administrative procedures for businesses and the public, he said.
His department would adopt comprehensive solutions to achieve the targets, help revive the city's economic growth and create a major transformation in its economic structure so that the services sector accounts for over 60 percent of the economy.
It would envisage and carry out solutions that enable the city to maintain its leading role in the country in terms of the economy and innovation, he said.
With respect to administrative reforms, it would enhance the use of IT in administration, he said.
Phan Thi Thang, vice chairwoman of the city People's Committee, hailed the achievements of the industrial sector in 2020, saying it had greatly contributed to the city's achievement of its dual goals of fighting the COVID-19 pandemic but also sustaining socio-economic growth.
She urged the department to speedily achieve administrative reforms and implement two promotion programmes that would attract local and foreign tourists and make HCM City a major shopping centre in the country.
The city would prioritise easing administrative procedures to facilitate businesses' functioning, she added./.
Bright outlook for aquatic product exports in 2021
With rosy signs in the second half of last year, Vietnam's fishery sector is expected to post positive growth this year.
According to the Vietnam Association of Seafood Exporters and Producers (VASEP), Vietnam exported 8.4 billion USD worth of aquatic products last year, a slight increase from 2019, of which aquaculture products made up 54 percent.
In January, the total export value was estimated at 600 million USD, a year-on-year rise of 19.6 percent thanks to the sector's great efforts to boost exports.
Shrimp has maintained its significant role in the country's aquatic product exports, with revenue forecast to reach 4.4 billion USD in 2021, up 15 percent from the previous year.
The Minh Phu Seafood Joint Stock Company announced on February 17 that the US Customs and Border Protection (CBP) has cancelled a decision issued on October 13, 2020 on the imposition of anti-dumping tariffs on the company's frozen shrimp products exported to the US.
Its CEO Le Van Quang said the latest CBP decision allows Minh Phu to continue exporting frozen shrimp to the US without being subject to an anti-dumping duty imposed on shrimp from India or any other anti-dumping duties.
Minh Phu has also been refunded anti-dumping duties it temporarily paid under the October 13 decision, Quang added.
Meanwhile, Cambodia is set to raise the standards for aquatic products from neighbouring countries, including Vietnam.
Given this, the Vietnamese Ministry of Agriculture and Rural Development on February 9 issued a document, asking local processors and exporters to get updated on regulations on food quality and safety set by foreign importers.
VASEP predicted that the aquatic product trading would still be impacted by the COVID-19 in the year. However, it said, Vietnam can maintain its competitive edge in material supply.
Moreover, new-generation free trade agreements (FTAs) like the Comprehensive and Progressive Agreement for Trans-Pacific Partnership (CPTPP), the EU-Vietnam Free Trade Agreement (EVFTA), the UK-Vietnam Free Trade Agreement (UKVFTA) and the Regional Comprehensive Economic Partnership (RCEP) will help Vietnam recover its exports in certain markets.
The association suggested the domestic firms establish and implement a product origin tracing system, seriously follow rules of product origin, and fulfill their tax obligations.
An information channel between importers, businesses and management agencies are needed to promptly deal with obstacles in export activities, especially issues relating to aquatic product quality./.
Farmers urged to use high-tech practices to enter global value chains
Farming households in the Cuu Long (Mekong) Delta need to apply high-tech practices to develop value-added agricultural products that can enter global value chains, Le Minh Hoan, deputy minister of Agriculture and Rural Development, has said.
Hoan said it was vital to offer incentives and loans to farmers who use sustainable and climate-friendly production processes.
Millions of small-scale farming households, which are the most critically affected by climate change, need access to innovative technologies and practices as well as market information.
The COVID-19 pandemic has disrupted global supply chains, posing risks to farmers and exporters of farm produce. The most affected products have been fresh fruits, vegetables and aquatic products, according to the Vietnam Academy of Agricultural Sciences.
To cope with the outbreak, major firms including the Loc Troi Group, Vingroup, PAN Group and Hoang Anh Gia Lai, have invested in high-tech applications.
Firms are also working with cooperatives and farming households to create "clean and safe food sources". They are training farmers in brand management and offering technical and seed support to improve quality control during processing and before harvesting.
In the future, the Mekong Delta will face a growing population and rising urbanisation. Pollution, landslides, coastal erosion and loss of natural forest land are all expected to increase.
Because arable land and harvests will shrink worldwide, productivity and a sufficient supply of quality food must increase, while natural resources remain protected.
Since more than 70 percent of Vietnam's agricultural products are from 22 million smallholder farmers, local agri-businesses should not depend solely on major corporations to promote innovative solutions, experts have said.
Other challenges include farmers' limited capital. Switching to high-tech agriculture requires a considerable up-front investment.
Another major issue is market and consumer confidence. Building brands and winning customer confidence are essential for Vietnamese brands so they can take advantage of major export markets like the EU under the new EU-Vietnam Free Trade Agreement (EVFTA).
According to the White Book on Vietnamese Businesses 2020, the Mekong Delta currently has more than 55,000 enterprises, accounting for only 7.26 percent of the country's total number.
Most of the businesses in the Mekong Delta region are small and medium-sized, and most lack long-term business strategies in technology investment, human resources training, and branding.
Amid deep global integration, Vietnamese products face strong competition from foreign-made goods.
Solutions must be identified, especially for smallholder farmers, to apply technology so they can enter mass markets. But it will take time to change farmers' methods that have existed for hundreds of years, experts said.
Nguyen Minh Hai, deputy chairman of the European Chamber of Commerce in Vietnam (EuroCham), said that exporters should continue to take advantage of the EVFTA to boost agricultural products such as rice, seafood and fruit.
As many as 39 Vietnamese Geographical Indications (GIs) exist in the EU, providing an adequate framework for further promotion of imports of quality products, he said.
The EU maintains some of the highest sanitary, phytosanitary, origin tracing and sustainable standards in the world. Hai said that exporters should raise local standards and develop new value-added products to compete internationally, particularly in the EU with its population of 450 million.
The elimination of tariffs under the EVFTA is expected to benefit farm produce from the Mekong Delta, but technical barriers to trade will be raised, imposing challenges for products and services.
The Mekong Delta region contributes 54 percent of rice output, 70 percent of aquaculture output and 60 percent of fruit output to the country's total output./.
Source: VNA/VNS/VOV/VIR/SGT/Nhan Dan/Hanoitimes
VIETNAM BUSINESS NEWS FEB. 25 have 6393 words, post on vietnamnet.vn at February 25, 2021. This is cached page on Game Breaking News. If you want remove this page, please contact us.