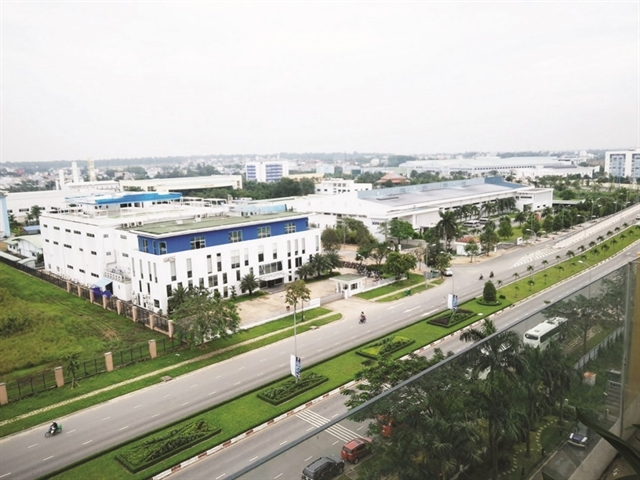 HCM CITY – HCM City is enacting numerous solutions to facilitate FDI into the city by focusing on infrastructure and administrative procedures, as the fund poured into it has been dwindling this year. 
HCM City received US$3.25 billion worth of FDI in the first nine months of the year, a 28 per cent decrease year-on-year, according to the city's Statistics Office. 
There were 719 new projects worth $407.4 million, 23.6 per cent and 57.1 per cent down.
Nguyễn Anh Thi, head of management of District 9's Saigon Hi-tech Park, said the park has been discussing with 15 potential foreign investors since the beginning of this year, but only issued a permit for one project worth $3 million.
The number of projects with investment of above $100 million is reducing while investors are increasingly moving away from HCM City and to other provinces.
Many investors have complained that traffic infrastructure and administrative procedures have not improved much.
In face of the situation, the city is speeding up work on infrastructure projects such as the metro line No 1 and Thủ Thiêm Bridge No 2.
It is also focusing on streamlining procedures involved in licensing permit, as well as further utilising information technology to reduce time spent on the procedures, and expanding online public services.
The city is also pushing up the construction of more industrial parks. It has recently proposed setting up of a new 280 hectares hi-tech industrial park in Bình Chánh District.
Industry rebounds
Industrial production is showing signs of recovery in HCM City post-COVID, benefiting from support policies.
Its Index of Industrial Production was 9.6 per cent up in September, and 2.2 per cent higher year-on-year, according to the Department of Industry and Trade.
The policies include deferment of tax and land rent payment, loans on easy terms from banks and consultancy.
Several industries have seen production rise since last month, food processing by 10.2 per cent, chemicals by 33.4 per cent, and rubber and plastic by 2.8 per cent.
Demand for goods is also picking up: total retail sales in September topped VNĐ72.4 trillion ($3.1 billion), 1.89 per cent up from last month and 4.8 per cent higher year-on-year.
National Day (September 2) sales at supermarkets increased by 15-20 per cent from last year.
Customers are focusing less on saving money, which they had been during the peak of the pandemic, according to the department.
City businesses exported $4.01 billion worth of goods last month, an increase of 1 per cent from August. Imports were up 1.5 per cent.
A fair is being held at District 11's Phú Thọ Sport Stadium to help businesses recover, with 260 of them selling a wide variety of goods and offering numerous promotions.
Another fair will be held at the stadium from December 29 to January 3 next year, with around 400 stalls again displaying goods from a wide variety of industries. Around 100 stalls have been booked already. – VNS
HCM City seeks ways to attract more FDI have 643 words, post on vietnamnews.vn at October 24, 2020. This is cached page on Game Breaking News. If you want remove this page, please contact us.