Steel export posts strong increase in 2016
Export of steel products in the first eight months this year reached 1.77 million tonnes, an increase of 49 percent from the previous year, according to the Vietnam Steel Association (VSA).
During the period, the country produced 11.5 million tonnes, up 29 percent from earlier year and consumed 9.5 million tonnes, an increase of 29 percent.
The price of construction steel went up in August and September, by 150,000-300,000 VND per tonne, reaching 9.5-9.9 million VND per tonne.
In the same period, 13.7 million tonnes of steel products were imported at a cost of 5.15 billion USD, up 62.5 percent in volume and 15 percent in value. China accounted for 6.5 million tonnes or nearly 60 percent of the total imported steel volume.
Booze exports to be reduced
Viet Nam expects to earn US$900 million from exporting beverage products by 2035, according to the industry's planning.
Under the new plan to 2025, with a vision to 2035, the Ministry of Industry and Trade has targeted the development of a modern industry which can compete in global integration.
Accordingly, focus would be placed on applying technologies to improve product quality, diversify products and build brand names.
The industry wants to reduce the percentage of alcohol and beer products, while increasing non-alcoholic beverage products.
Production of non-alcoholic beverages will be more than doubled to 15.2 billion litres during the 2020-35 period.
Beer plants with a capacity of below 50 million litres per year will not be encouraged. Private investments in large-scale non-alcoholic beverage production, using modern technology, and adhering to environment safety and food hygiene would be encouraged. Beer production output will reach 4.1 billion litres by 2020, then 4.6 billion litres by 2025 and 5.5 billion litres by 2035, according to the planning. Liquor output will remain the same, at 350 million litres.
The export revenue is also expected to double from $450 million to $900 million during the period.
The industry will post a growth rate of between 4 to 5.8 per cent by 2035, according to the planning. The ministry estimated that the industry would need a total of VND27.3 trillion ($1.2 billion) investments during the next four years.
VN firms abroad must partner with home firms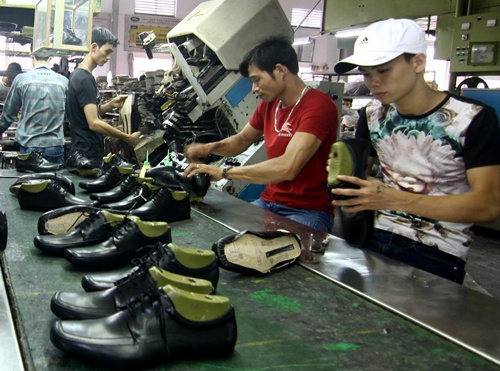 Deputy Prime Minister Trinh Dinh Dung made the statement during a business forum held in Moscow on Sunday to promote co-operation between Viet Nam and Russia when the Vietnam – Eurasian Economic Union (EAEU) free trade agreement comes into effect on October 5 this year.
At the forum, a representative from Viet Nam's Ministry of Industry and Trade (MoIT) discussed the advantages and disadvantages of the FTA between Viet Nam and EAEU.
The FTA would cut many tax lines for Vietnamese products exported to the EAEU, according to the MoIT representative. The enterprises could set up business relations with Vietnamese people living and studying in Russia to expand their business.
Viet Nam's Ambassador to Russia Nguyen Thanh Son said the FTA would create opportunities for Vietnamese enterprises at home and in Russia to promote production and business.
The free trade pact between Viet Nam and the EAEU is expected to boost bilateral trade, investment and tourism, said Deputy Prime Minister Trinh Dinh Dung. To fully benefit from the deal, the Vietnamese community in Russia should use more legal and transparent business models and increase the quality of products according to international standards.
He said cutting many tax lines would affect the businesses of Vietnamese people in Russia. Therefore, Vietnamese business households should move business activities from markets to trading centres and import goods directly from Viet Nam or become agencies of local enterprises.
Co-operation between Vietnamese enterprises in foreign countries and local enterprises would develop production and business in Viet Nam, said Dung, adding that the Government would have the responsibility of solving difficulties in developing production and business.
In another development, the 10th Conference of Vietnamese Businessmen in Europe took place in Budapest, Hungary from September 16-18 with the focus on the EU-Viet Nam Free Trade Agreement (EVFTA).
The highlight of the conference was a seminar on opportunities and challenges brought by the EVFTA on Saturday. Ambassador-head of the EU Delegation to Viet Nam Bruno Angelet made a speech on this issue at the meeting.
The conference was the biggest event for the Vietnamese entrepreneur community in Europe to exchange views and experiences on markets in the worlds and doing business.
Held annually since 2006, it has brought together leading Vietnamese enterprises operating in Europe.
This year's event featured the European Vietnamese Youth Business Alliance for the first time.
SBV taking tougher stance on loan rollover violations
The State Bank of Viet Nam has reminded foreign credit institutions and bank branches of its rollover loan requirements.
Under the newly-issued document No 6960/NHNN-TTGSNH, the central bank once again reiterated that credit organisations and foreign bank branches must recover a loan's entire principal and interest at the end of the lending period, as agreed in the credit contract with customers. They must not renew all or part of the original loan before the due date.
The requirement was first stated in a document issued two years ago.
This time, however, the SBV's governor is taking a tougher appoach in the inspection, examination, and litigation of cases violating regulations. The governor is instructing the State Bank branches in provinces and cities, and the agencies of banking supervision and inspection in Ha Noi and HCM City, to take a stricter approach.
Two years ago, the decision was not welcomed by bankers.
Some argued that the central bank should not prevent rollever lending, calling it an international practice, widely recognised in the world. They said the lending form benefits enterprises by providing enough flexible capital to serve production and help reduce borrowing costs.
A representative of a bank told the Thoi bao Kinh te Viet Nam (Viet Nam Economic Times) that loan rollover isn't caused by a customer's incapacity to pay but rather from the fluctuating day-to-day requirements of business activities. This type of lending is unlikely to increase credit risks, as it only applies to customers with good credit history and is based on their repayment capacity at each period of time.
However, a banking expert who requested anonymity said that there must be a reason for the central bank to remind the credit institutions and branches after two years.
Loan rollovers can make it hard to recognise bad debts and clarify assets. Therfore, banks sometimes end up provisioning their funds improperly and do so in a manner that is not in line with the new regulations recently issued by the SBV.
As a consequence, credit quality and loan performance might not be assessed correctly. Though the decision, to some extent, might adversely affect banks and businesses' operations, it is expected to improve transparency and create a foundation to assess credit quality more precisely.
Ha Noi to divest from 96 SOEs
Ha Noi People's Committee will divest from 96 State-owned enterprises (SOEs) located in the city from 2016-20, according to a city government decision.
Sixty-six of the SOEs are owned by large State-owned corporations and groups, under the Government's management, and 30 are managed by city authorities.
The most well-known SOEs to be equitised include the Urban Infrastructure Development Investment Corp, Hanoi Housing Development and Investment Corp, Hanoi Water Co Ltd and Hanoi Transport Corp.
Other companies the Stae will divest from include Thuong Dinh Footwear Company, Ha Noi Plastic Company, Minh Khai Textile Company and electronics producer Hanel Co Ltd.
The SOEs have total charter capital of more than VND10.3 trillion (US$457.78 million) with the State holding more than VND4 trillion.
The city will divest from business units that are not the core business of the SOEs.
The city also has to attract private investors to buy shares of the SOEs in order to restructure the companies and improve the quality of corporate performance.
The city will sell less than half of the State's shares in companies that must be controlled by the Government and divest entirely from the others, especially those in which the State has less than 50 per cent of shares.
The city's Business Development and Renovation Committee will tackle unexpected problems immediately and work with related sectors and agencies to deal with issues rising in the divestments.
The city's Department of Finance and the Business Development and Renovation Committee will work with other city and Government's agencies to make sure the SOE equitisation is efficient and goes to schedule.
The two city's agencies will also help SOEs and consultancy firms comply with regulations in equitisation and divestment.
The SOEs on the must-sell list have to prepare documents on their business, including property and land-use rights, financial status, labour and other relevant issues so that the equitisation and divestment can be undertaken quickly and efficiently.
Coal imports surge high
Vietnam imported more than 9.7 million tons of coal valuing at US$600 million during the first eight months of this year, according to latest statistics from the General Department of Vietnam Customs.
The figure is much higher than the 500,000 tons imported in 2015 for domestic use.
Russia remained the biggest seller of coal to Vietnam with 2.8 million tons, trailed by Indonesia (1.8 million tons) and China (1.4 million tons). However, the coal imported from Russia costs Vietnam only US$63 per ton, which was lower than that from China with US$71 per ton.
According to the Vietnam coal industry development planning up to 2020 with a vision to 2030 announced by the Ministry of Industry and Trade (MoIT) last month, coal output will reach 47-50 million tons by 2020, 51-54 million tons by 2025 and 55-57 million tons by 2030.
The MoIT forecast that with current reserves, Vietnam can exploit coal for several hundred years. The northeast coal basin alone can supply enough coal for the next 40-50 years.
Meanwhile domestic demand for coal will double the production output, around 112.3 million tons by 2020 and 220.3 million by 2030.
Import demand for the operation of thermal power plants, steel and cement plants is on the rise. The Vietnam National Coal and Mineral Industries Group (Vinacomin) plans to import around 20-30 million tons of coal by 2020 for electric power plants.
MM Mega Market Vietnam helps customers trace food product origin
Ho Chi Minh City-based MM Mega Market Vietnam (formerly Metro Cash & Carry Vietnam) has launched its QR code plastering application for product information coding to help the customers seek traceability of food products via their smartphones.
The application will be first used at MM Mega Market An Phu store.
With the solution, MM Mega Market customers will be able to easily go through full information on a product such as farm information (location, certificate code, validity date) and slaughter information (premise, certificate, slaughter date, etc) by scanning QR code with their smartphones.
"At MM Mega Market, we always place quality, hygiene and safety for food products first, with a wide range of strict quality control norms. I believe that plastering QR code to a product is a necessary step to protect the very fundamental right of the customers, which is to have access to safe and quality products, as well as to provide convenience to the customers," said Phidsanu Pongwatana, CEO of MM Mega Market Vietnam.
"At this point, we already have 19 vegetable and fruit product lines from Da Lat at 19 stores of MM Mega Market and 37 pork products affixed with QR codes. More products with QR codes will come very soon," added Phidsanu.
Using the QR code is an excellent way to help the customers track down the source and origin of products quickly and at no cost. Products affixed with a QR code will come with necessary background information on them.
To get the information, consumers can follow these simple steps:
Step 1. Download the QR Code decoding application to their devices. Download a QR scanner, QR code scanner or other software through the CH play (Android phones) or Store (Windows phones) or App store (iOS phones)
Step 2. Install the app into the device. After that, consumers can start the scanning process to decode the QR code for the product they want, by: (1) Opening the app on their phones; (2) Directing the device's camera onto the barcode area; and (3) Reading the results.
By a simple movement, when scanning QR code on a product, customers will know clearly about product information
"In a time when food hygiene and safety raises an alarming concern, the QR code solution comes out as an effective way to strictly control of the sourcing, origin and transparency of the products, while also strengthening food quality, hygiene and safety governance.
"We work with the different departments of the farm to get the information inserted into the QR code," said Nguyen Thi Huong Ngoc, vice director of Nam Phong Food Processing Plant, a unit under the management of Saigon Food Processing and Animal Breeding Company (SagriFood), one of MM Mega Market Vietnam's suppliers.
As a trailblazing firm in promoting and improving public health through safe food supply chains, by taking the lead in applying the QR code for product traceability this time, MM Mega Market Vietnam proves once again its number one priority is food product safety and hygiene.
Taxes removed on Japanese electronics and machinery
A number of Japanese electronics products and machinery are subject to a tax rate of zero per cent when being imported into Vietnam from September 1 to March 31, 2019.
The government has released Decree No. 125 on the import tax rates, based on the Economic Partnership Agreement between Vietnam and Japan from 2016 to 2019.
Electronic products subject to a zero per cent tax rate include printers, copiers, fax machines, calculators, recorders, seal machines, ticket machines, cash registers, mobile phones, image-sound transmission and reception equipment, speakers, and telephone answering machines.
Machinery bearing the tax exemption includes automatic data processing machines, magnetic readers, data transmission machines, and automatic vending machines.
The tax rate applies to electronics products that are transported directly from Japan to Vietnam and have original certification that meets the Ministry of Industry and Trade's regulations.
The Vietnam – Japan Economic Partnership Agreement (VJEPA) was signed on December 25, 2008 and came into being on October 1, 2009.
Trade relations between the two countries are on the increase and a great deal of potential lies ahead given the number of trade agreements Vietnam and Japan have signed. Vietnam has committed to eliminating 82 per cent of tariffs on Japanese imports within 16 years, while Japan will eliminate 94 per cent of tariffs on Vietnamese exports within ten years. Japan has also pledged to cut average tariffs on agricultural products from 8.1 per cent in 2008 to 4.74 per cent in 2019 and from 6.51 per cent to 0.4 per cent on industrial products. Shrimp, crab, and certain fish, together with textile products, enjoyed zero tax rates as soon as the agreement took effect in 2009.
According to Vietnam Customs, trade between Vietnam and Japan has increased significantly over the last decade, growing an average of 13.9 per cent each year.
Exports from Vietnam to Japan in the first seven months of this year reached $8 billion, with the main sectors being silk and textiles, machinery and equipment, and means of transport. Imports from Japan in the first half of 2016 stood at $8.2 billion, primarily machinery and equipment and electronics.
US, Sweden increase investments in Vietnam
The US and Sweden have affirmed that they want to step up trade and investment ties with Vietnam and Ho Chi Minh City in particular.
The affirmation was made by US Consul General Mary Etta Tarnowka in HCM City and Swedish Ambassador Pereric Hogberg during separate meetings with Secretary of the HCM City Party Committee Dinh La Thang on September 19, according to Saigon Giai phong newspaper.
The newly-accredited US Consul General said she is aware of her responsibility to encourage US enterprises to invest in Vietnam.
Tarnowka informed her host that she and US Ambassador Ted Osius will have a working session with leaders of the American Chamber of Commerce in Vietnam this week to discuss measures to boost bilateral investment.
Ted Osius and other US Ambassadors in ASEAN member countries will return to the US in the next few weeks to accelerate the country's ratification of the Trans-Pacific (TPP) agreement, of which Vietnam is a signatory.
Thang said municipal leaders would create optimal conditions for US investors, noting his hope that the Consul General will help the US become the city's largest investor.
The official said he believes that Fulbright University Vietnam will soon be operational, contributing to bringing Vietnamese and US people closer.
Meanwhile, Pereric Hogberg noted that Swedish enterprises are interested in investment and trade in Ho Chi Minh City.
Sweden's new trade minister has selected Vietnam as the first Southeast Asian country to visit in October since taking office, the ambassador said, adding that the minister will be accompanied by Swedish businesses who plan to study investment opportunities in Vietnam and HCM City.
Sweden stands ready to share its experience in urban development with HCM City, he added.
Dong Nai keen on clean industrial production
The southern province of Dong Nai targets to have 50 percent of local enterprises applying clean production process and saving from 8 to 13 percent of energy and material consumption per product unit by 2020, according to the provincial People's Committee report.
To realise the target, numerous incentives have been offered to lure investment in hi-tech industries, such as electric-electronic industry, mechanics, manufacturing, chemicals, bio-technology and supporting industry, said Vice Chairman of the provincial People's Committee Tran Van Vinh.
Investments have also been poured to improve productivity and product quality into the sectors of food processing and beverage, garment and textile, footwear, wood production, construction material, among others, according to Vinh.
Besides, the clean production process has been applied in the sectors with a high risk of environment pollution.
Dong Nai is home to 32 industrial parks, covering an area of nearly 10,000 hectares. Twenty nine of them have been operated, drawing 1,396 projects from 42 nations and territories worldwide, 73 percent of them are foreign ones.
It also has 27 industrial clusters on an area of nearly 1,400 hectares.
Currently nearly 25,000 enterprises are operating in the locality. Over 2,500 new firms are established annually.
Foreign companies to develop seaport, industrial park complex
The Prime Minister has approved the development of a seaport and industrial park complex in the Nha Mac marsh area, Quang Yen town, Quang Ninh province.
The CDC Corporation headquartered in the Cayman Islands, the Middle Utilities Company Pte. Ltd from Singapore and the Infra Asia Investment Limited in Hong Kong are the investors of the project.
The project will cover 1,193 hectares at a cost of 6,940 billion VND (310 million USD).
The PM assigned Quang Ninh People's Committee to instruct the Economic Zone's Management Board to review and grant the investment certificate for the project and consider the granting of investment certificates in stages and ask investors to follow their commitments as stated in the dossiers.
The province was directed to instruct relevant agencies to hand over land for the progress of the project and observe the Land Law and the Law on Forest Protection and Development when repurposing land.
The province is asked to require the investors to compile a report assessing environmental impacts and submit it to authorised agencies and to monitor the implementation of projects posing risks to the environment.
It will also instruct the Economic Zone's Management Board to review and revoke investment certificates of cancelled projects according to ensure effective land use and increase the occupancy rate at industrial parks.
Flight attendants in rising demand in Vietnam
Flight attendants have become an increasingly recruited position by Vietnamese carriers since the beginning of this year in order for future demand to be met.
Representatives of Vietnamese airlines have gathered for a recent vocational fair organized by the Vietnam Aviation Academy (VAA) in Ho Chi Minh City.
In her speech, Vu Thi Kim Cuc, deputy head of the flight training center of national carrier Vietnam Airlines, stated that the airline had been aggressively seeking for new flight attendants since earlier this year.
About 430 fresh flight attendants have been recruited so far, Cuc said, adding that another 100 similar positions are expected to be hired in October.
"In order to meet the future demand of Vietnam's aviation sector, Vietnam Airlines is anticipated to employ 700 new flight attendants in 2017 and about 800 more in 2018," she continued.
According to Tong Viet Bay, chief human resources officer of Jetstar Pacific Airlines, the carrier will recruit at least 200 new cabin crew members and another 100 pilots next year.
Despite the rising demand for cabin staff, the number of qualified applicants has been underwhelming, Bay said.
"We could only pick 100 employees to join our flight training programs out of 5,000 candidates," the official elaborated.
The trainees mainly lack soft skills, he said, adding that Jetstar will cooperate with the Vietnam Aviation Academy in improving the qualifications of their students.
An extensive flight attendant course was also introduced to those youngsters who are interested in the profession, said Nguyen Thi Hai Hang, director of the Vietnam Aviation Academy.
"The program includes a series of lessons designed to equip learners with comprehensive knowledge and skills relating to the career. Graduates will be ready to work for domestic and international airlines," Hang stated.
Key to fully exploit FTAs
Close coordination among overseas Vietnamese businesses is a "key" to fully exploit advantages of the free trade agreements that Viet Nam has signed, said Deputy PM Trinh Dinh Dung.
The Deputy PM made the statement while attending a business forum in Russia on September 19.
The inked trade pacts include the free trade agreement between Viet Nam and the Eurasia Economic Union comprising of Russia, Armenia, Belarus, Kazakhstan and Kyrgyzstan.
Under the agreement, Viet Nam and the Union will completely remove 90% of their import duties.
Viet Nam is the first foreign partner to sign a trade deal with the Union thus Vietnamese exports will enjoy special advantages of this agreement, especially trade in goods, according to Deputy Minister of Trade and Industry Hoang Quoc Vuong.
Though Russia joined the World Trade Organization, its average import tax levels are still high, particularly for farm produce, said Mr. Vuong, adding that product structures between Viet Nam and the Union member countries are suppletive.
Mr. Do Xuan Hoang, President of the overseas Vietnamese business association in Russia said by signing the agreement, the Government of Viet Nam has built a big and modern stadium and Vietnamese businesses are responsible for playing well.
Viet Nam has expanded trade ties with 240 countries and territories, signed more than 10 free trade agreements, and concluded talks on a trade deal with the European Union, providing enormous opportunities for local businesses.
Interbank dollar firmer against Vietnam dong
The interbank market saw the U.S. dollar strengthening against the Vietnamese dong currency at VND22,313- 22,314 per dollar late last week, the highest in weeks.
The exchange rate was VND22,308-22,310 a dollar on early Friday morning but the dong weakened to VND22,311-22,312 before gaining some ground at the end of morning trade. At the end of the day, it stood at VND22,310-22,312 a dollar.
On Thursday, the dong-dollar exchange rate reached VND22,306-22,308 in the morning session and later soared to VND22,313- 22,314 a dollar but dropped slightly when the trading day ends.
Last Saturday, Vietcombank bought a dollar at VND22,270 and sold it at VND22,340. Meanwhile, Techcombank's respective dollar buying and selling prices were VND22,250 and VND22,355.
The State Bank of Vietnam (SBV) and commercial banks have acquired large volumes of dollars thanks partly to tumbling interbank interest rates for Vietnam dong loans. This has led the dollar price on the interbank market to surge at the end of last week compared to previous days.
Vietnam reported a trade surplus of US$849 million in the second half of August.
According to market watchers, the SBV last Wednesday and Thursday bought a big volume of dollars to increase the nation's foreign exchange reserves.
The average daily interbank exchange rate between the dong and the U.S. dollar was VND21,956 a dollar last Friday, a mild drop from the previous day, meaning local banks could trade the dollar in the range of VND21,297 and VND22,615.
The dollar has dipped on the global market following weaker-than-expected U.S. economic data. According to a U.S. Commerce Department report, retail sales shrank 0.3 percentage point after edging up by 0.1 percentage point in July, which indicates the U.S. economy might maintain growth momentum this year.
Manufacturing output fell 0.4 percentage point in August as well. Almost all investors said the Federal Reserve (Fed) would not hike interest rates this month.
Gold plunged to its lowest two weeks earlier amid the upcoming Fed policy meeting. Spot gold slipped 0.62 point to US$1,314.98 an ounce on the New York market last Friday.
At home, the precious metal's buying price stood at VND36.01 million per tael and the selling price at VND36.25 million at Saigon Jewelry Company (SJC). The gap between the global and local gold prices was more than VND500,000 a tael. A tael equals to 1.2 troy ounces.
Last Saturday, SJC's buying price edged down to VND35.95 million a tael and its selling price dropped to VND36.22 million.
Thai Nguyen grants investment license for RoK project
The People's Committee of northern Thai Nguyen province on September 19 handed over a 50-year investment license to the ALK JSC Company to build its factory in the local Diem Thuy industrial park.
Covering nearly 105,500 sq.m, the facility has a total investment of 75 million USD.
Upon its completion by the first quarter in 2020, the factory will produce aluminium frames for LCD/OLED TVs and electronic components, aluminium components for automobile, trains, and airplanes, at a volume of 36,000 tonnes per year.
Addressing the ceremony, Chairman of the provincial People's Committee Vu Hong Bac welcome the investment, pledging that the locality will associate with the investor in implementing the project.
Thai Nguyen has been approved to establish six concentrated industrial parks on 1,420 hectares, namely Song Cong 1, Song Cong 2, Nam Pho Yen, Yen Binh, Diem Thuy, and Quyet Thang. Four of them have been put into operation.
By the end of 2015, the province had 136 projects, including 63 FDI ones.
In the first six months of this year, the province lured 15 new projects, raising the total valid number of projects to 151, including 74 foreign and 77 domestic ones, worth a total of 7 billion USD and 11 trillion USD, respectively.
PM calls for more investment in Hai Phong
Prime Minister Nguyen Xuan Phuc has called on investors to pour money into the northern coastal city of Hai Phong, especially in production, business, tourism and services.
Addressing an investment promotion conference in the city on September 19, the PM assured that the Government will make every effort to stablise the macro economy, curb inflation and maintain economic growth, towards facilitating long-term business of investors and enterprises in Vietnam.
He highlighted Hai Phong's advantages for socio-economic development, while praising the city's great achievements in investment attraction, especially foreign direct investment (FDI).
The Government welcomes and appreciates investors' business and investment in Hai Phong, he stressed, expressing his hope that investors will expand their activities in the city.
He added the Government and the municipal authority will work to protect human rights, legitimate rights and benefits, and assets of investors in accordance with Vietnam's Constitution and law.
Attention will be also paid to training human resources, including both managers and skilled workers, to meet investors' demand for high-quality workforce, he affirmed.
He took the occasion to urge investors to soon implement licensed projects, and ensure environment and culture-related issues in their investment process.
Meanwhile, the city's leaders committed to strongly improving the investment and business climate in order to attract more investors to the locality.
At the conference, the municipal People's Committee announced a decision to set up an investment, trade and service promotion centre, which will serve as a bridge connecting the local authorities and businesses. The model is expected to help create a convenient and transparent investment climate for investors, promote administrative reform and deal with difficulties facing enterprises in the city.
On the occasion, representatives from the committee presented investment licences to LG Innotek Co., Ltd of the Republic of Korea and Flat Group of Hong Kong, which will respectively conduct a 550 million USD project in the Trang Due industrial park (IP) to manufacture electronics and camera modules, and invest 200 million USD in a solar-energy glass project in the Dinh Vu IP.
The event, which was attended by representatives from nearly 200 domestic and foreign enterprises and investors, many groups and enterprises signed cooperation agreements on tourism and airline development, IP and transport infrastructure construction.
As of September 12, Hai Phong drew over 2.7 million USD in FDI, five times higher than that of the same period last year, becoming the leading locality nationwide in FDI attraction.
Aquaculture Vietnam 2016 to take place in October
An international conference on aquaculture, fisheries and seafood supply chains – Aquaculture Vietnam 2016 – will be organised in HCM City in the middle of next month.
With the theme of "Sustainable Aquaculture in Practice," the conference will feature many leading experts and companies in the industry as well farmers who will discuss the industry's outlook, challenges and opportunities, as well as the sector's trend and opportunities.
Topics will include feed outlook and technology, the outlook for pangasius and shrimp; challenges and opportunities of vegetable proteins; the impact of different inorganic phosphorus sources on growth performance, digestibility, retention efficiency and excretion of nutrients in fish; financing for investment, insurance and logistics for Vietnam aquaculture; seafood consumption in key markets such as EU, Japan, China and USA; and improving the value chain in the aquaculture industry in Vietnam.
Broadcast&AV Show planned for April 2017
A series of international exhibitions of broadcasting and AV, as well as smart technology (VIBA-ICT Show), will be organised in HCM City in April 2017 with many improvements from previous shows, according to organisers.
VIBA-ICT Show 2017 will be developed in terms of scale and the number of exhibits. It hopes to attract 20,000 visitors.
Visitors will have a chance to witness and experience ultramodern equipment and technology, such as digital video broadcasting, drones, VR, 4K TV, UHD, smart phone, broadcast services and AV from Vietnamese and overseas companies.
Interactive games will be organised to create an exciting atmosphere, along with other concurrent events, such as workshops, seminars and business matching with opportunities to meet with related government bodies, associations and other major key players in the industries.-VNA
Ford Vietnam launches black SUV
Ford Vietnam has launched the black version of its city SUV Ecosport Titanium at a price of VNĐ664 million.
As its name indicates, it has an all-black cabin, but otherwise continues to offer the same three power trains like standard EcoSport models.
Ford SYNC, a smart connecting system controlled by voice and installed in 15 million of Ford's cars globally, is also used in the car.
"The strong growth of the Vietnamese market is an energy pushing our development," Pham Van Dung, general director of Ford Viet Nam, said.
"The EcoSport Titanium Black Edition version clearly proves our commitment to bringing the best products of Ford to Vietnamese consumers."
The vehicle is produced at the Ford Hai Duong Plant in seven different colours, and the company has begun to accept orders from this month.
EcoSport was launched in Viet Nam in mid-2014 and has sold over 8,700 units so far.
Mitsubishi Vietnam recalls Triton pick-up trucks
Mitsubishi Vietnam has announced a recall for the Triton pick-up truck manufactured from 2009 to 2015.
The recall is in connection with the replacement of front airbags, which may harm passengers when deployed.
Some 3,539 units, imported from Thailand, have been recalled.
The recall programme began in September 15 this year and will end on September 14, 2017.
Earlier in June, the firm recalled 2,581 Zinger units with a similar defect.
VIBA-ICT Show planned for April 2017
A series of international exhibitions of broadcasting and AV, as well as smart technology (VIBA-ICT Show), will be organised in HCM City in April 2017 with many improvements from previous shows, the organisers announced last Friday.
VIBA-ICT Show 2017 will be developed in terms of scale and the number of exhibits. It hopes to attract 20,000 visitors.
Visitors will have a chance to witness and experience ultramodern equipment and technology, such as digital video broadcasting, drones, VR, 4K TV, UHD, smart phone, broadcast services and AV from Vietnamese and overseas companies.
Interactive games will be organised to create an exciting atmosphere, along with other concurrent events, such as workshops, seminars and business matching with opportunities to meet with related government bodies, associations and other major key players in the industries.
Bank loans make up 90% of capital in BOT, BT projects
Bank loans account for 85-90% of total investment capital in build-operate-transfer (BOT) and build-transfer (BT) road and bridge projects, according to a State Bank of Vietnam (SBV) report.
Since 2014, lenders' pledged and outstanding loans for these projects have increased significantly. By end-June, bank-pledged loans had amounted to VND159.2 trillion (US$7.1 billion) and outstanding loans had totaled VND83.61 trillion, up 12.43% against the end of last year.
The Bank for Investment and Development of Vietnam (BIDV), Vietnam Bank for Industry and Trade (VietinBank) and Saigon-Hanoi Bank (SHB) alone make up 85.64% of pledged loans and 85.3% of outstanding loans for BOT and BT traffic infrastructure projects.
In a document contributing ideas to a conference of State Audit last Friday, the central bank said increasing credit for road and bridge projects has helped fuel economic growth and improve the investment environment but difficulties, hindrances and risks remain.
According to the central bank, the biggest problem with lending to transport projects is some investors are financially weak and have no enough equity as committed, leading to project execution delays.
Many projects have moved at a snail's pace due to contractors' financial shortfalls and slow site clearance. Many projects have been dogged by cost overruns.
Banks said that of 150 BOT and BT road and bridge projects that have received bank loans, 22 with loan pledges of nearly VND20.35 trillion and outstanding loans of VND11.12 trillion have been delayed because of slow site clearance, cost overruns and inadequate equity.
These projects need huge investment capital, long-term loans and 20-25 years for capital recovery but bank loans chiefly come with short terms.
The central bank warned that it is risky to make long-term loans to infrastructure projects. What investors of BOT and BT projects use as collateral are mainly future assets, so it is hard to make accurate evaluations. Besides, if toll collection revenues are lower than expected, the stakes would be high for lender banks.
The SBV said in the coming time it would strictly monitor lending to BOT and BT projects and give advice to banks to help them control risks.
Japan's Kajima in US$1-billion realty venture
Japan's Kajima Corporation and Indochina Capital struck a deal last Friday to establish a joint venture which would invest US$1 billion to develop high-end property projects in Vietnam over the next ten years.
Indochina Kajima Development (ICC-Kajima), equally owned by the two firms, is the first venture of Kajima in Vietnam's real estate market.
In its initial phase, ICC-Kajima will focus on residential projects and hotels in Hanoi, HCMC and Danang, said Peter Ryder, CEO of Indochina Capital. Development of resorts, serviced apartments, hotels and housing is what both Indochina Capital and Kajima are strong in.
So far 50 projects have been taken into consideration. ICC-Kajiman will pour some US$100 million into four projects in HCMC, Hanoi, and Danang in the next 12 to 15 months, Ryder said.
Keisuke Koshijima, general manager of the Overseas Division at Kajima, said Vietnam is a potential market in the region and a core market for the Japanese corporation. Founded in 1840, Kajima is one of the four biggest contractors in Japan.
In Vietnam, Kajima has got involved in Tan Son Nhat International Airport terminal and several office and hotel projects.
With an extensive presence in North America, Europe, Asia and Oceania, Kajima has developed some of the world-famous projects, including Four Seasons Resort Hualalai in Hawaii and Senayan Square in Indonesia.
Indochina Capital is one of the leading financial services and investment firms active in asset management, financial and strategic advisory services in Vietnam.
Indochina Land, an Indochina Capital unit which was founded in 1999, has been involved in major real estate projects such as The Nam Hai, Six Senses Con Dao, Hyatt Regency Danang, Montgomerie Links Vietnam, and Indochina Plaza Hanoi.
US company eyes sensor factory in Ho Chi Minh City
A representative of DunAn Sensing said the company was ready to invest in the first sensor factory in HCM City at a recent meeting with city leaders.
DunAn Sensing operates three factories in the US and China and specialises in the production of sensor using Micro-Electro-Mechanical System (MEMS) technology. The sensor is used in mobile phones, automobiles, biology and health.
Tom Nguyen, Executive Director of the company, said HCM City is a potential market for the product.
He said that DunAn Sensing will strive to help establish a Vietnam-U.S. microelectronics association to develop the field in Vietnam.
Tran Vinh Tuyen, Vice Chairman of HCM City People's Committee lauded DunAn Sensing and the plan to develop MEMS technology in Vietnam.
According to Tuyen, to make HCM City a smart city, its leaders will create favourable conditions for DunAn Sensing to invest and produce goods for the city.
He requested the management board of HCM City's Hi-Tech Park to help DunAn Sensing draft a pre-feasibility study on the factory, to be submitted to the People's Committee for consideration in the fourth quarter of 2016.-VNA
Only 42 SOEs equitised in eight months: steering committee
Only 42 State-owned enterprises (SOEs) and two public service institutions were equitised between January and August this year, according to the Steering Committee for Business Reform and Development.
In the period, nine SOEs were dissolved, one went bankrupt and one was sold.
The steering committee said 48 SOEs have had equitisation plans approved this year. The total value of these firms is roughly 32 trillion VND (1.4 billion USD), 23.28 trillion VND (1.04 billion USD) of which belongs to the State.
Under the approved plans, the SOEs will have a combined charter capital of more than 23 trillion VND (1.03 billion USD), of which the State holds more than 11 trillion VND (493 million USD).
Nearly 7.5 trillion VND (336.1 million USD) of shares will be sold to investors, 342 billion VND to workers, 6.7 billion VND to trade unions, and more than 4.1 trillion VND will be put up for initial public offering.
The Steering Committee for Business Reform and Development is supervising the approved restructuring to speed up SOE equitisation, aiming to make the companies more efficient.
Ca Mau needs 100 mln USD for development
The southernmost province of Ca Mau will need 100 million USD for a project for development and climate change adaption in the province's capital – Ca Mau City.
The province plans to build and upgrade infrastructure, drainage and sewage and lighting systems in the city from 2017-2019. It will also build and renovate manmade lakes and resettlement areas as well as strengthening the city's capacity of urban management and adaptation to climate change.
Of the 100 million USD for the project, 80 million USD will be sourced from an Asian Development Bank loan, with the remainder sourced from the local budget.
The project is expected to drive socio-economic development and improve local living conditions.
Despite efforts in infrastructure development in recent years in the city, a lack of capital has hindered the growth of the city's infrastructure.-VNA
New intn'l container terminal opens in HCM City
A new international container terminal was officially opened yesterday in HCM City, promising to boost trade activities of the southern city whose biggest port is severely overloaded.
A total investment of more than US$200 million went into the SP-ITC international container terminal, stretching over 48ha in District 9.
Facing Đồng Nai and Ông Nhiêu Rivers, the newly-opened terminal is also connected with the Long Thành-Dầu Giây Expressway and the Cái Mép international terminal in the neighbouring Bà Rịa-Vũng Tàu Province. SP-ITC's favourable location is expected to promote trade across the Cửu Long (Mekong) Delta region, particularly in Bình Dương, Đồng Nai and Bà Rịa-Vũng Tàu provinces.
Deputy Prime Minister Trương Hòa Bình said that the SP-ITC terminal, which was just a muddy area five years ago, would become an important trading gate not only for HCM City but for the key economic region in the southern part of the country.
"The new port will share the burden with the Cát Lái port, which is already overloaded with export and import activities," he said at the opening ceremony.
The SP-ITC terminal is able to receive container ships 230 metres long with up to 35,000 deadweight tonnage.
All the equipment and machines at the terminal run on electriicity, not diesel fuel, saving energy consumption by more than 30 per cent.
VEF/VNA/VNS/VOV/SGT/SGGP/Dantri/VET/VIR
BUSINESS IN BRIEF 21/9 have 7029 words, post on at September 20, 2016. This is cached page on Game Breaking News. If you want remove this page, please contact us.