There is a certain class of gamers who will pay any amount of money to stay on the bleeding edge, with no concern about money. These are the few who demand the best possible experience – high frame rates, high resolutions and very, very high quality settings. Then there are others who save up for a huge indulgence once in a while. Either way, a top-tier graphics card (or two) today will let you game at 4K or even with multiple monitors and still have a good experience – but one premium graphics card alone will cost more than an entire mid-range gaming PC.
If you want bragging rights, these flagship cards are the way to go. Thankfully, for those with lighter wallets and more down-to-earth expectations, there are usually second-tier cards that offer most of the same performance and functionality for significantly less money. This is where most people's interests lie, and with good reason.
GeForce GTX Titan X launched its GeForce GTX Titan X GPU earlier this year; the latest in its continuing Titan line which represents Nvidia's absolute premium offering at any given time. The Titan X is no exception, billed as the current world's fastest single-GPU graphics card. It's based on Nvidia's current Maxwell architecture, but in a new implementation codenamed GM200 which has more of everything going on than the GM204, aka the GeForce GTX 980 .
Compared to GM204, GM200 has 50 percent more resources . There are six clusters of shader processing units rather than four, for 24 shader multiprocessors (3,072 individual shader units in total) rather than 12 and (2,048 shader units). That has a direct relationship to memory bandwidth which is also up to a 384-bit bus rather than 256-bit.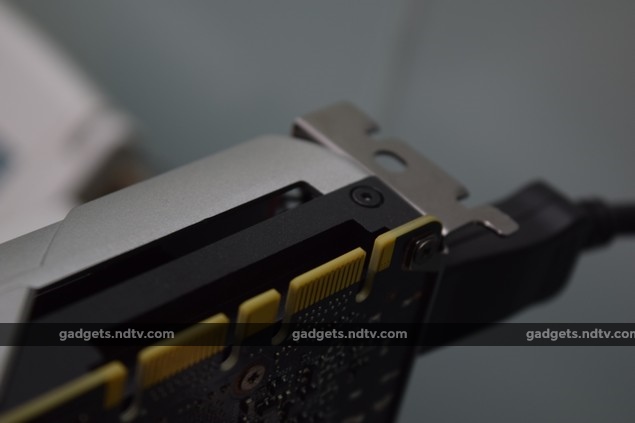 There's an unprecedented 12GB of RAM, which feels like overkill. The cooler is the same unit we've seen on all Nvidia flagships since the original Titan, except that this time it's all matte black. The card is rather heavy and looks like a very serious piece of machinery, compared to some of the ones with simple plastic shrouds we've become used to seeing. The Rs. 85,099 price tag tells you all you need to know about its target audience.
In an interesting turn of events, Nvidia no longer makes its Titan series cards suitable for accelerated parallel computing and intense number-crunching. Previous models supported double-precision floating-point operations, effectively making them low-priced Quadro cards for workstations, but the new Titan X is purely for gaming.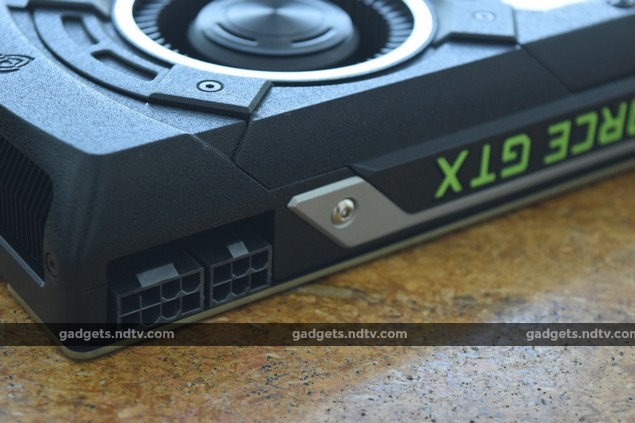 GeForce GTX 980 Ti
That changed when AMD released its new Radeon lineup, particularly the new Radeon R9 Fury series. Nvidia, predictably, had had the GeForce GTX 980 Ti ready and waiting .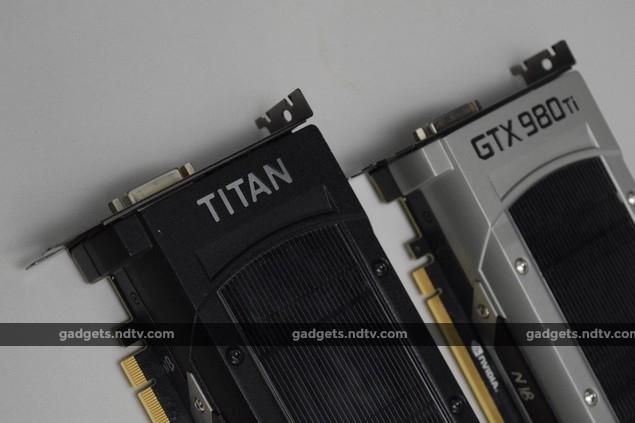 Despite its name, it has far more in common with the Titan X than with the GTX 980. This new entry is a slightly toned-down version of the Titan X, running on the same GM200 silicone with surprisingly few resources disabled and the RAM halved to 6GB. Two of the 24 shader multiprocessors have been blocked off so only 2,816 shader units are available. It's notable that Nvidia hasn't reduced speeds for the GPU or the RAM, cache size, or any other specification – you're getting what is pretty much 99 percent of the useful parts of a Titan X at a serious discount.
This is the card many had been waiting for, and it shouldn't be hard to see why. No games today or those expected in the near future will suffer with a 6GB RAM ceiling, and the shader reduction is much less severe than it could have been. The silver cooler shroud is just as effective, and some might even prefer this look. Most importantly, though, with prices starting from Rs. 55,249, the value-for-money equation has shifted drastically.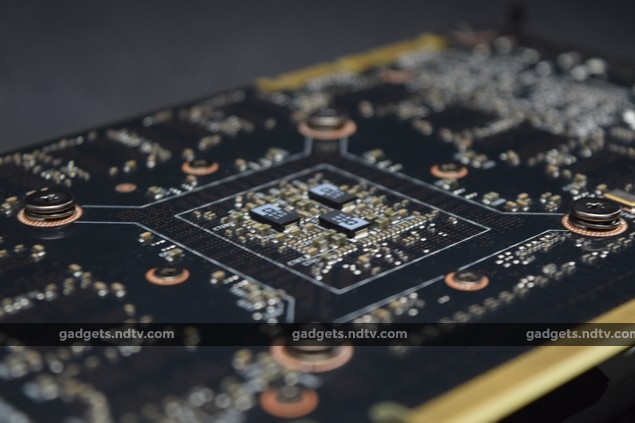 Features
The impressive power efficiency also means that much less heat is generated, so cards can get by without loud, bulky coolers. Both the Titan X and GTX 980 Ti have 250W TDP ratings and you can get by with a 600W power supply (assuming your other components aren't too exotic). Nvidia is especially insistent on this message for the GTX 980 Ti, which it says provides 3X the raw performance and 2.3X relative performance per watt compared to the three-year-old GeForce GTX 680.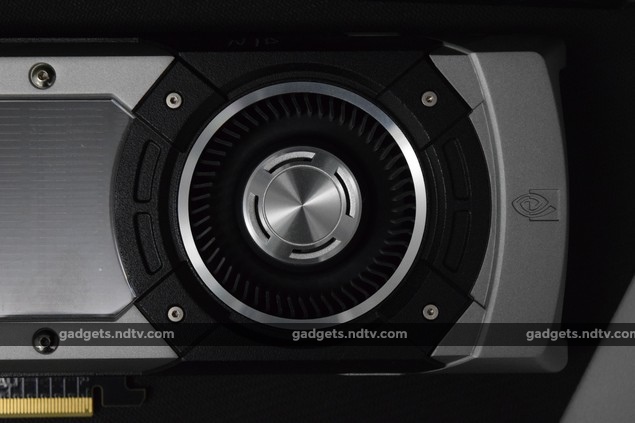 Both cards have a single DVI port that supports an analog VGA converter on each card, though you should not be even thinking of using it. There are also three DisplayPort outputs and an HDMI port on each card. The backplates have the same triangular grille pattern we've seen since this cooler was introduced. The rears are bare, allowing for more airflow at the (possible) expense of structural rigidity.
The tops of both cards have glowing green "GeForce GTX" logos which will look neat in a windowed case. You'll find the usual SLI "golden fingers" connectors towards the backplate, and a pair of PCIe power connectors – one six-pin and one eight-pin – towards the other end, pointing upwards. You shouldn't have a problem fitting these cards into enthusiast-class PC cases or wiring them up. Note that if you're stacking multiple cards for SLI, airflow will be restricted thanks to the blower design.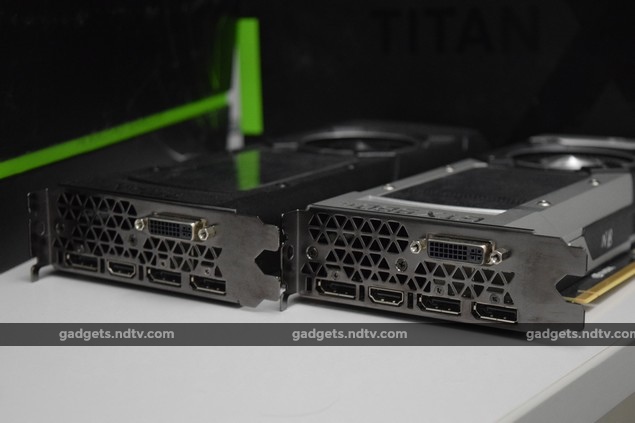 Beyond the basic GPU layout, Nvidia has been emphasising other features that its latest GPUs support. The release of DirectX 12 is just around the corner now, and these cards will be able to handle it fully. There's also a lot of talk about stereoscopic VR -can break frames into multiple smaller ones and render them simultaneously with different geometries to compensate for warping caused by headset optics that sit close to the eyes.
Both AMD and Nvidia have specific optimisations that only their cards support. Game developers must choose whether to expend resources adopting either or both camps' techniques, but when they do, there are notable improvements to complex materials such as smoke, fire, fog, hair, and shadows. Nvidia claims quality improvements in all of these areas -the kinds of things that improve gamplay experiences but don't show up when measuring frames per second.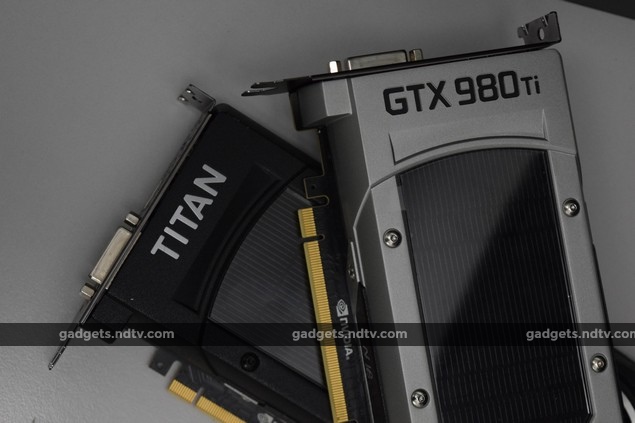 Performance
We tested both cards under identical conditions using the following hardware:
– Intel Core i7-4770K CPU at stock speeds
– Asus Z97-Pro (Wi-Fi ac) motherboard
– 16GB of Adata 1600MHz RAM
– 120GB Kingston HyperX Fury SSD
– Cooler Master Hyper 212X CPU cooler
– Corsair RM650 power supply
– Asus PB279 4K monitor
Both cards were tested under Windows 8.1 Professional, 64-bit, with Nvidia's 353.06 driver.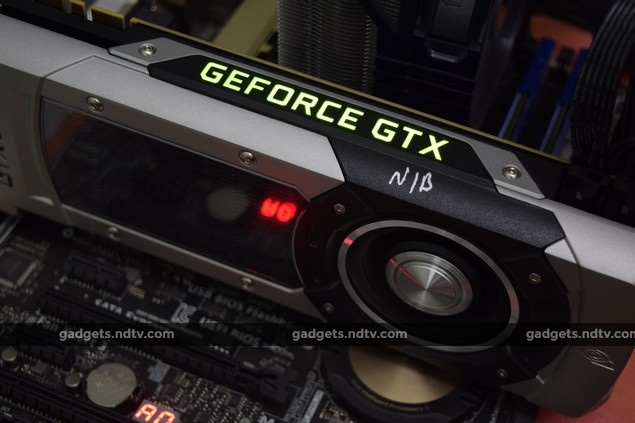 We first ran the cards through the trusty 3DMark benchmark using three of the test modes: Fire Strike, Fire Strike Extreme and Fire Strike Ultra, which are designed to test modern hardware at increasing levels of difficulty. Fire Strike aims to represent the load a typical mainstream gaming PC would be able to handle, and gave us scores of 13,376 and 13,859 for the GeFoce GTX 980 Ti and the GeForce GTX Titan X respectively. On the top end, Fire Strike Ultra took full advantage of our 4K monitor, giving us scores of 3,911 and 4,147 respectively.
The Unigine Valley simulation tops out at 1440, which is one step above HD 1080p and is a very reasonable target resolution for high-end gamers. The 980 Ti and Titan X managed averages of 54.5fps and 55.6fps respectively. The minimum and maximum scores were also within 2fps of each other. Valley challenged both cards enough to make them dip to 27 and 28fps respectively, showing no real qualitative difference between them.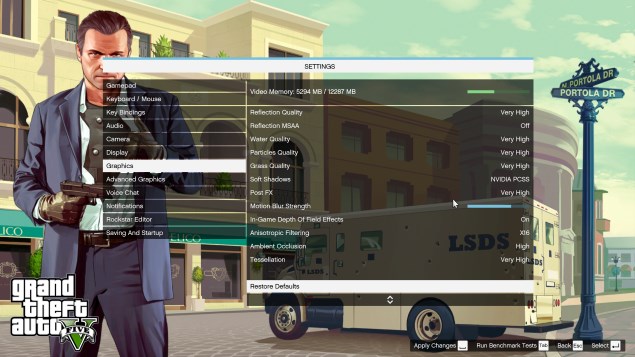 Star Swarm gave us much the same picture, with the two cards averaging 74.99fps and 78.65fps respectively. There is a difference and it is consistently visible, but at this point, it is stunningly clear that the 980 Ti is the far, far more sensible card to buy.
On to the games, and we begin with GTA V, one of today's most demanding titles. It scales up beautifully no matter what hardware you throw at it, and can deliver some truly gorgeous visuals. We ran the exhaustively detailed internal benchmark at 4K 2160p with 16xAF, 4xMSAA, and pretty much every quality setting turned up to its maximum setting. The GeForce GTX 980 Ti and GeForce GTX Titan X averaged 32.75fps and 34.04fps respectively. Even a game this demanding did not suffer at all because of the less expensive card's 6GB RAM ceiling. You should be able to game comfortably at 4K and 60fps with less aggressive settings.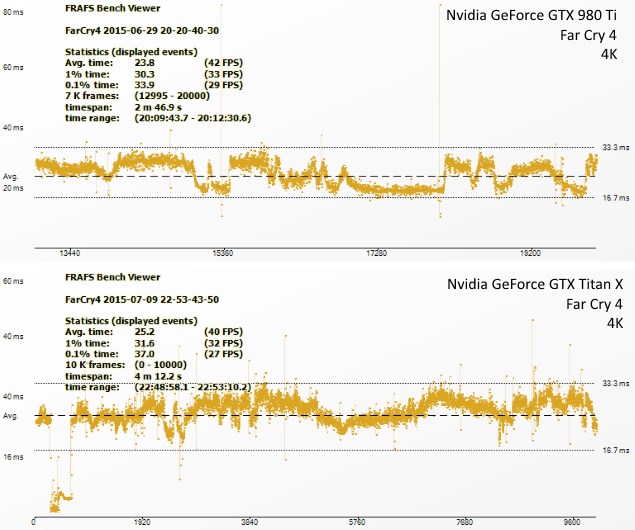 Next up was Far Cry 4, another game that can be extremely challenging to hardware. Instead of pre-set benchmarks, we used real-world game run-throughs and analysed performance using the FRAPS frame-time measuring tool. While average frame rates do illustrate how much raw power any given hardware can pump out, we look more closely at the frame time distribution which tells us whether or not the hardware is struggling to deliver those frames consistently. Poor results, illustrated by jagged lines, indicate lots of screen tearing and skipped frames, which negatively impact the gaming experience.
We tested at 4K with graphics quality set to Ultra, SMAA enabled and HBAO+. The GeForce GTX 980 Ti gave us 42fps on average with a 23.8ms average frame time, which increased to 30.3ms when considering the worst one percent of outliers. The GeForce GTX Titan X scored 40fps on average with frame times going from 25.2ms on average to 31.6ms for the worst one percent. The variance between the two cards is again negligible, with the dip in the Titan's numbers attributable to the variance in individual runs because we play through a set scene manually and things never go exactly the same each time.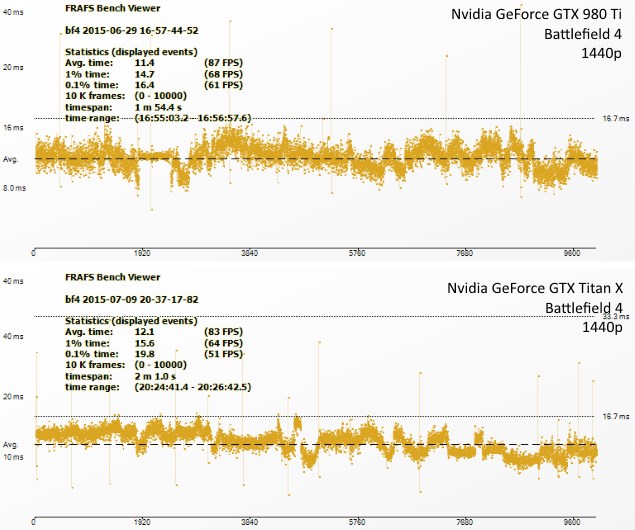 Battlefield 4 is another modern game with high demands. We tested at 1440p with Ultra quality settings, 4xMSAA and HBAO. Interestingly, our manual run-throughs also gave the less expensive card an advantage in pure average fps terms: 87fps for the GeForce GTX 980 Ti as against 83fps for the GeForce GTX Titan X. However, one glance at the graphs shows that the Titan X delivered much cleaner output with a tighter line indicating fewer variances from the average. The frame time numbers showed 11.4ms for the 980 Ti and 12.1ms for the Titan X – a far smaller margin.
We also ran through Crysis 3, which can still push modern hardware to its limits. At 4K, with quality set to very high, 8xMSAA and 16xAF, the game looked absolutely gorgeous. We recorded 17fps on average with the GeForce GTX 980 Ti and 21fps with the GeForce GTX Titan X at these settings. Frame times were 57.8ms and 48.5ms on average.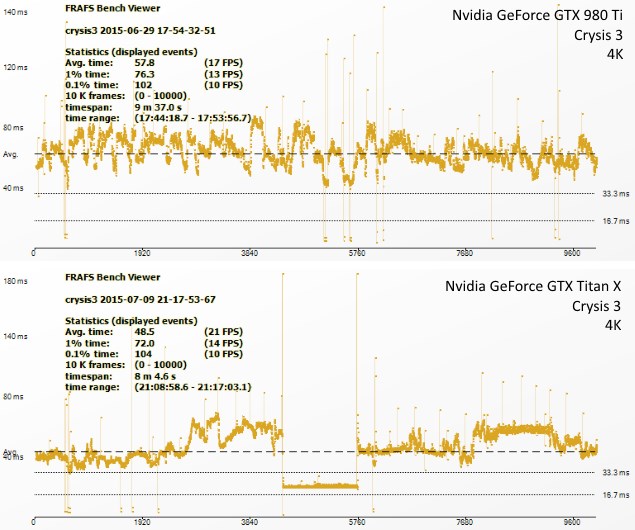 During our time stressing out both cards, we were impressed that they ran quiet and cool for the most part. We could hear the fans spin up when under load, but even then they weren't too bad except for a dull whine produced by our Titan X review sample when the fan went up to full speed.
Verdict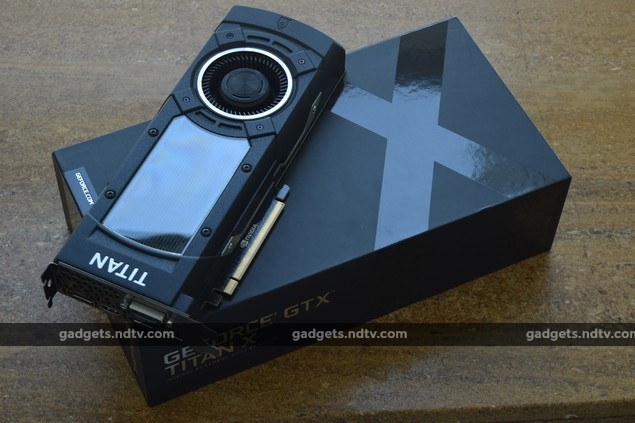 It's unfortunate that Nvidia only brought this level of performance to this price level when faced with competition from AMD. The Radeon Fury and Radeon 390 series cards should compete with Nvidia's high-end offerings, and there will be some interesting dynamics to note about the relative advantages and disadvantages of each option.
For now, it's safe to say that anyone gaming at 4K would be well served by a GTX 980 Ti, and anyone who doesn't have more than a 1080p monitor would be wasting money as this card would be total overkill. Future-looking features such as DirectX 12 support reassure us that top-tier games should run at high settings for at least the next three years.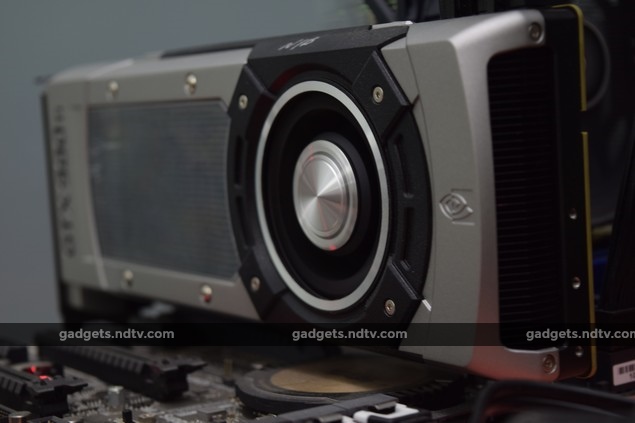 On the other hand, it's really hard to recommend the GeForce GTX Titan X. It might still live up to its tag as "the world's fastest single GPU graphics card", but its pricing makes that irrelevant and Nvidia knows it.
Nvidia GeForce GTX Titan X
Price (MRP): Rs. 85,099

Pros
Absolute top-tier performance
Future-proof with 12GB RAM
Potential for overclocking
Looks fantastic
Cons
Horrifically overpriced
Reference cooler makes a slight whiny noise
Ratings (Out of 5)
Performance: 5
Value for Money: 2
Overall: 3
Nvidia GeForce GTX 980 Ti
Price (MRP): Rs. 55,249

Pros
Only insignificantly slower than the GeForce GTX Titan X
Low noise and good cooling
Potential for overclocking
Cons
Ratings (Out of 5)
Performance: 5
Value for Money: 3.5
Overall: 4.5
Nvidia GeForce GTX 980 Ti and GeForce GTX Titan X Review: 4K Gaming and Beyond have 2227 words, post on gadgets.ndtv.com at July 15, 2015. This is cached page on Game Breaking News. If you want remove this page, please contact us.