Lantern Festival in District 5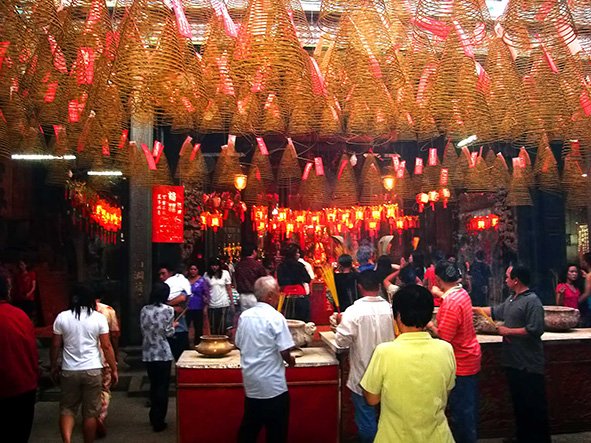 As a long-established tradition, the Chinese Vietnamese community in HCMC's District 5 has begun preparing the Lantern Festival slated for the 15th night of the first lunar month.
The annual event is intended for Vietnamese of Chinese descent but local people also come to visit it thanks to its special art performances and other festive activities.
People usually hang flower garlands and lanterns to pray for good weather, bumper crops and thriving business. On this occasion, red lanterns are seen on the facades of club-houses, shopping centers, restaurants, hotels and private homes along Nguyen Trai, Luong Nhu Hoc and Tran Hung Dao streets in District 5.
The Cultural Center of District 5 hosts a long list of activities such as displaying artistic flower lanterns and paintings, making calligraphy works, and performing kylin and dragon dances, and music programs.
Meanwhile, families in the areas of Thuan Kieu Plaza, Xom Cai apartment building and An Dong Plaza celebrate the festival through traditional and modern music performances, kylin dances and other activities.
On the night of the first lunar month's 15th day, there will be a parade with the participation of club-houses, schools, kylin and dragon dance troupes, and music and dance ensembles.
On the way to the main stage at the Cultural Center of District 5 on Tran Hung Dao Street, the parade will pass through the club-houses and pagodas in the area.
Tran Temple recognised as special national relic site
The Hung Ha district People's Committee in northern Thai Binh province held a ceremony on March 3 to receive the State's certificate recognising the Tran Temple, consisting of tombs and relics dedicated to the Tran Kings in Tien Duc commune, as a Special National Relic.
On the occasion, the annual Tran Temple Festival opened attracting thousands of visitors offering incense and paying tribute to the Tran Kings.
According to historical records, Long Hung – Ngu Thien area, now Hung Ha district, Thai Binh province, was where the Tran Dynasty was founded in the 13th century, one of the most prosperous feudal dynasties in Vietnamese history due to their significant triumphs against foreign invaders (most famously overcoming three Mongol invasions), outstanding socio-economic development and rich culture.
During three resistant wars against Mongol invasions, Long Hung was chosen as a trust resistant base and a firm rear for Tran Dynasty to gather soldiers, prepare weapons and food, and organise rituals to commemorate ancestors.
The land was also the burial place of Tran Dynasty's ancestors and members of the royal family, including Tran Thua, Tran Thai Tong, Tran Thanh Tong and King-Monk Tran Nhan Tong, the founder of Vietnam Zen Buddhism.
At the ceremony, on behalf of the Party and State, Deputy Prime Minister Nguyen Xuan Phuc presented the certificate to the district People's Committee recognising the Tran Temple complex as special national relic site. After which, the deputy PM struck the temple drum declaring the 2015 Tran Temple Festival as open.
The annual event, held every first lunar month, features various activities such as folk games and art performances, as well as rituals to commemorate the Tran Kings. The festival will last until March 8.
Activities to celebrate International Women's Day
A series of activities will be held across the country to celebrate the 105th anniversary of International Women's Day.
The Vietnam Women's Union (VWU) Central Committee will organise a ceremony in Hanoi on March 7 to present the prestigious 2014 Kovalevskaia Science Awards. The Kovalevskaia Science Awards aims to honour outstanding female scientists for their contributions to the development and application of technology across Vietnam.
Earlier, the VWU Central Committee also held a workshop on Vietnamese Women continuing the Trung Sisters' tradition in constructing and protecting the country, scheduled to take place in Hanoi on March 6. The workshop aims to foster the patriotic spirit and nurture national pride as well as uphold the traditional virtues of Vietnamese women in the current era.
Additionally, the Vietnamese Women's Museum at No.36 Ly Thuong Kiet Street, Hanoi will open an exhibition 'Two Sisters – Two Front Lines' featuring the life and sacrifice of Vietnamese women, while honouring the contribution of Vietnamese women during the anti-US resistance war. The exhibition runs until March 31.
Under the framework of the exhibition, visitors will have a chance to choose meaningful gifts on the occasion of the International Women's Day at a small fair, which will feature fashion and beauty products, jewelry and household commodities.
Nearly 140 films compete for 2014 Golden Kites awards
Nearly 140 cinematic works have registered to compete for the 2014 Golden Kite Awards, the annual Vietnamese film awards organised by the Vietnam Cinematography Association.
The awards aim to honour outstanding works, film makers and artists, who have made contributions to Vietnamese cinema in last year.
Nominees were organised into seven categories: feature films, cartoons, documentaries, short films, scientific films, TV series, and research projects on cinematic theory and criticism.
The awards ceremony is scheduled to take place in Ho Chi Minh City on March 12. Prior to the ceremony, participating films will be screened for free at BHD Star Cineplex at Pham Hung Street, CGV Thao Dien Pearl and Tan Son Nhat Cultural Centre from March 5 to 8.
The national Golden Kite Awards have been held in March annually since 2003 to honour the best cinematic works and artists of the year.
Over 1 million visitors pay homage to Hung Kings
More than one million people have flocked to the Hung Kings Temple in northern Phu Tho province since the start of the Lunar New Year to pay homage to the nation's legendary founders.
According to the temple management, the number of visitors to the Hung Kings Temple surged during the week-long Lunar New Year holiday thanks to favourable weather conditions.
The temple is a complex of religious buildings dedicated to the Hung Kings and their family, who are considered to be the first rulers of the Vietnamese nation.
The worship of Hung Kings, notably the festival held on the tenth day of the third lunar month, has been recognised by UNESCO as a world heritage.
Management head Luu Quang Huy said that in the past year, renovations have been made to a number of places of worship and courtyards while stalls selling offerings and souvenirs have also been re-arranged for visitors' convenience.
Many visitors shared a comfortable and solemn mood while visiting the site to offer incense to the Hung Kings. Nguyen Thi Hoa, 67 from Lao Cai province, said she was delighted at the tidy and beautiful scenes in the temple complex.
This year the management also have special officials to guide visitors to follow religious practices in line with national tradition and Government regulations, and to increase their efforts to prevent sellers from overcharging visitors.
Flower street back to Nguyen Hue Blvd next year
HCMC will move the annual flower street festival back to Nguyen Hue Boulevard in District 1 next year to celebrate the Lunar New Year (Tet) after Ham Nghi Boulevard was used for this purpose this year.
The ongoing construction of a pedestrian street on Nguyen Hue Boulevard led the flower street event to move to the nearby Ham Nghi Boulevard.
The information was unveiled by HCMC vice chairman Hua Ngoc Thuan at a review meeting of the festival last week.
Thuan said the flower festival on the pedestrian-only street of Nguyen Hue next Tet would have a number of new features. The former Cay Lieu (Willow Tree) Roundabout and the roundabout in front of the Sun Wah Tower will be transformed into fountains where a variety of events will be held every night.
According to the organizers, there were more than one million visitors to the 2015 Flower Street Festival on Ham Nghi Boulevard from February 16 (the 28th of the twelfth lunar month) to February 22 (the 4th of the first lunar month).
Vietnamese stars invited to David Beckham's party
Former Manchester United (MU) midfielder David Beckham has invited two Vietnamese singers, Ho Ngoc Ha and Toc Tien to participate in his party in London, UK.
David Beckham and his wife Victoria Beckham warmly received their guests in Wellington Arch-one of most ancient and beautiful place in London.
World celebrities including Kate Walsh (US), Tom Cruise (US) and Tracy Phillips and Benjamin Kheng (Singapore) were present in the party.
In November last year, David Beckham toured Vietnam to promote the whiskey label-Haig Club.
Concert to mark musical geniuses' 330th birthday
A concert will be held at the Saigon Opera Theatre in Ho Chi Minh City on March 9 to commemorate the 330th birthdays of two of the world's musical geniuses, Johann Sebastian Bach and George Frideric Handel.
The HCM City Ballet Symphony Orchestra and Opera (HBSO) said on March 3 that the event will take place amid an array of activities held around the world this year to celebrate the composers' 330th birthdays.
Outstanding performers will include Russian pianist Igor Chistokletov, Korean soprano Cho Hae Royng, and Vietnamese baritone Dao Mac, along with the HBSO chorus and symphony orchestra. The concert will be conducted by young prodigy Tran Nhat Minh.
The programme aims to introduce classical music aficionados to prominent works of the two composers.
The German composer Johann Sebastian Bach (1685-1750) is widely considered one of the most influential composers in Europe. Meanwhile, German-British George Frideric Handel (1685-1759) was admired by W.A. Mozart, L.V. Beethoven, and J. Brahms.
Young Vietnamese promote culture in UK
The Vietnamese Society in University of Bath (VietBath), the UK presented an exclusive annual show, "Cultural Night 2015" on March 1.
The annual program aims to introduce Vietnam and its people to international friends as well as promoting cohesion among Vietnamese students there.
This year, one of the most anticipated student shows, 'Culture Night' guided audience through the story of a girl who overcomes hardships in life caused by her devious step mum in the form of a play, as well as unique traditional performances. Audience were taken back in time to experience the peaceful countryside of ancient Vietnam.
Profits made from the event were donated to the Vietnam Association of Victims of Agent Orange/dioxin (VAVA).
Numerous visitors flock to love duet singing festival
Thousands of people from different localities across Vietnam have flocked to Tien Du district in northern Bac Ninh province to attend the Lim festival which is dedicated to Quan Ho (love duet singing), part of the world's intangible cultural heritage.
The annual festival, which takes place on the 12th and 13th days of the Lunar New Year, which fell on March 2-3, is held on Lim Hill where Lim Pagoda is located. The pagoda is dedicated to Hieu Trung Hau, who invented Quan Ho.
According to the story told by local residents, Hieu Trung Hau , who lived in 18th century, was born in Noi Due Village and made many great merits for his hometown. He was also the person who founded Lim Festival, which was originally Commune Festival held yearly in the eighth lunar month. Therefore, incense-offering liturgy expresses gratitude and respect of the locals to him, and is also an occasion to remember the origin of Lim Festival as well.
Besides Quan Ho singing, Lim Festival is also space for various folk games such as bamboo swinging, traditional wrestling, earthenware pot breaking and human chess.
Love duet singing, which was inscribed in UNESCO's intangible cultural heritage of humanity list in September 2009, is an art form combining various elements, including music, lyrics, costume and a unique style of singing the reflects the close relationship between singers. Performances of love duet songs are made by "lien anh" (brothers) and "lien chi" (sisters), who are ordinary people hailing from different villages.
The rich and diverse tunes and fine lyrics of the songs portray the zest for life and distinctive cultural features of people in the region formerly called Kinh Bac.
Vietnamese prose's integration spotlighted at seminar
A seminar themed "Vietnamese prose – Integration and Development" was held in Hanoi on March 3, attracting writers, poets, and translators from Vietnam and more than 40 other countries and territories.
Professor Phong Le presented Vietnam's modern prose, from the 1990s through present day, noting that it is rapidly entering a new era with substantial changes brought about by intensive international integration in all fields, including literature.
Many participants at the seminar remarked on the rich diversity of Vietnamese prose, adding that a number of local writers have gained a firm foothold in the world.
Meanwhile, Chairwoman of the Laos Writers' Association Phiulavan Luongvanna said literature is meant to draw people together and inspire sympathy, but that this original intention has been lost in modern day.
To integrate and develop, Vietnam, Laos, or any other country and territory must nurture their people's awareness and sentiments first, and that literature presents a profound and delicate means of doing so, she said.
Writer Igor Britov from the Russia Today news agency suggested Vietnam should amplify promotion of its works in other countries, including Russia, to drive its literature's integration and development.
The popularisation in Russia will be effective when the two countries' Governments, Embassies, writers, researchers, organisations, and businesses cooperate, he added.
The seminar was part of a series of events hosted by the Vietnam Writers' Association from March 1-7 to popularise the nation's literature.
Thai Binh Tran Temple festival opens, receiving special honour
The Tran Temple Festival 2015 kicked off on March 3 in Tam Duong hamlet, Tien Duc commune, Hung Ha district in the Red River province of Thai Binh.
A ceremony was also held on the occasion to receive the special national relic honour for the Temple complex dedicated to the Kings of the Tran Dynasty ((1225-1400).
The Temple was built in the Long Hung land where the Tran Dynasty ascended more than 700 years ago to commemorate Tran Kings, who always returned to where is now Hung Ha district to perform ceremonies proclaiming their victories over invaders to the ancestors.
In 2014, the Tran Temple festival, which includes many original rituals and customs typical of the Tran Dynasty such as the procession of water, fish dishes contest, folk games, folk songs and dances, was recognised as the national intangible cultural heritage.
This year's festival, which will last till March 8, features activities re-enacting the development milestones of the Tran Dynasty and honouring its Kings.
A ceremony dedicated to the Tran Dynasty's ancestor, Tran Kinh, will be organised on March 8, the 18th day of the first lunar month.
Earlier on March 1, a Tran Temple Festival kicked off in northern Nam Dinh province.
A ceremony for distributing papers stamped with the holy royal seals will take place in Nam Dinh in the night of March 4 – the first full moon of the lunar new year.
Thai Binh is considered the birthplace of the Tran Kings' ancestors, while the Dynasty's first royal palaces were located in Nam Dinh.
Exhibition opens to mark Vietnam-Slovakia diplomatic ties
An exhibition of Slovak paintings dedicated to celebrate the 65 th anniversary of Vietnam-Slovakia diplomatic relations opened in Hanoi on March 3.
The exhibition displays drawings by Slovak painter Peter Pollag, featuring topics including the relationship between individuals and community, altruism, and honesty.
His work, at once a sensitive reflection of the past and an immediate commentary on the present, can be found in public and private collections in Slovakia and abroad.
The event will run through March 8.
VEF/VNA/VNS/VOV/SGT/SGGP/Dantri/VIR
Art & Entertainment News 5/3 have 2752 words, post on at March 4, 2015. This is cached page on Game Breaking News. If you want remove this page, please contact us.